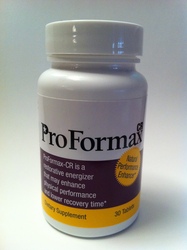 The benefits reported by the athletes and other individuals with chronic neuropathy pain and arthritic pain have been astounding.
Houston, TX (PRWEB) February 18, 2011
Houston-based Aikon Holdings, Inc. announced today that it has launched a revolutionary new natural performance enhancer, ProFormax-CR (http://www.BuyProFormax.com). By helping the body recruit its own stem cells, ProFormax-CR may shorten recovery time and accelerate muscle mass development when combined with physiotherapy or exercise. The product has been formulated by Dr. David Summers, and the scientific research is partially based on Dr. Summers' cooperation with Stanford University in the early 2000s.
In 2001, Dr. Summers received a research and development grant from Philip Morris to study the therapeutic effects of nicotinic alkaloids found in several dietary plants of the night shade family. Summers teamed up with Stanford University and produced some groundbreaking scientific discovery. They discovered that miniscule amounts of nicotinic alkaloids found in dozens of dietary foods, such as eggplant, tomatoes and potatoes could recruit adult stem cells from bone marrow to work for the body in times of stress and disease. In fact, Stanford found that this alkaloid could actually cause new blood vessels to grow in blood-starved limbs. In subsequent clinical studies, Dr. Summers proved that these alkaloids helped people in physiotherapy and accelerated muscle mass development when used as part of an exercise routine. He then formulated various products for the body building industry, and two of them became General Nutrition Center's (GNC) blockbuster products.
However, Dr. Summers' new formulation is not for athletes only.
"It is important to understand that stem cell recruitment is not beneficial to athletes only, but can make a positive difference for everyone. Stem cells are undifferentiated cells that lie dormant in your bone marrow most of the time but have the power to travel to the part of the body that needs to be repaired or enhanced," says Dr. Summers.
"In order to make this a groundbreaking supplement everyone could benefit from, we added various other potent ingredients to the formulation. For example, ProFormax-CR includes a unique fatty acid that may prevent damage to the liver, and an amino acid to enhance brain function and increase the production of cellular energy as well as stamina and strength. There are also ingredients that are designed to boost your immune system and protect against free radicals. ProFormax-CR is by far the most comprehensive dietary supplement I have ever formulated," describes Dr. Summers.
Before the launch, this natural performance enhancer was widely distributed to a group of former professional athletes who typically suffer from various ailments after their sports careers. According to Dr. Gladstone C. McDowell, II, MD, who specializes in practicing pain medicine in Columbus, OH, "The benefits reported by the athletes and other individuals with chronic neuropathy pain and arthritic pain have been astounding."
Proformax-CR advocates include NBA Hall of Famer Oscar Robertson, NFL Hall of Famer and Heisman Trophy winner Paul Hornung, MLB All-Star and World Champion Sal Bando and NBA All-Star Tom Van Arsdale.  They and other former athletes have formed Pure-Pro Products, LLC (http://www.pureproproductsllc.com), an Aikon Holdings affiliate, to extend the message globally
"Our company is taking a whole new approach to dietary supplement development. Instead of simply reshuffling same old ingredients and re-branding them like most supplement companies do, we focus on identifying lesser-known compounds that could make our supplements truly different and more effective. I strongly urge people to visit our product-specific websites to learn more about Somniac PM - one of the most comprehensive natural sleep aids in the market, Staminac AM - our natural mental energy booster with indium sulfate and ProFormax-CR - our new natural performance enhancer," says Robert J. Horn, president and CEO of Aikon Holdings, Inc.
The corresponding websites are http://www.SomniacPM.com, http://www.StaminacAM.com and http://www.BuyProFormax.com. For company related information, visit http://www.AikonHoldings.com.
Aikon Holdings, Inc. is a nutraceutical company that specializes in developing life-enhancing dietary supplements. Please note that no statements on this press release have been reviewed or evaluated by the U.S. Food and Drug Administration.  This product is not intended to diagnose, treat, cure or prevent any disease. Testimonials for our products reflect individual experiences and your results may vary. Please consult your physician before using the company's supplements with or without any other medications.
# # #