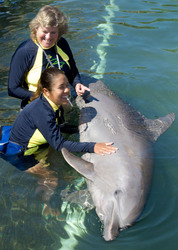 "The workshop was instrumental in landing me this job." Denise LaBonia
Riviera Maya, Mexico (PRWEB) February 22, 2011
While some desperate job seekers are still coming up empty after months of unemployment, others are aiming high for their dream job as a dolphin trainer. A unique new program, the ABC Dolphin Trainer Academy in Mexico's Riviera Maya, now offers beginner and advanced five-day workshops that make it possible for aspiring dolphin trainers to learn the skills they'll need – everything from preparing fish for the dolphins' meals to training the animals for voluntary medical procedures.
For some of the participants, the dolphin academy workshops have already paid big dividends by landing them new jobs in the animal training field. Denise LaBonia, who was hired at an aquarium in the Caribbean after completing the beginner and advanced course said, "The workshop was instrumental in landing me this job." Other students have received employment in Florida and Mexico as well.
At each workshop, Shelley Wood, Founder and President of ABC Dolphin Trainer Academy guides her eager students through in-water training sessions not only with dolphins, but also manatees and sea lions. "Our program is unique in that participants spend an incredible amount of time in the water with marine mammals. They learn about the differences in working with each species and also the differences in the personalities of each animal."
Wood spent years developing the animal training protocol at Dolphin Discovery's ten facilities throughout Mexico and the Caribbean. She created the curriculum and standards used in Dolphin Discovery's continuing trainer education program before opening her own dolphin academy. Because the dolphin academy courses take place at a Dolphin Discovery location, the students benefit additionally by learning at a large working facility.
"We teach the science of operant conditioning, specifically behavior modification for marine mammals using positive reinforcement. Students learn how to effectively communicate to these animals using tools such as whistle signals, hand signals, and body posture," Wood explained.
Dagbjort Rós Helgadóttir who traveled to the workshop from Iceland, described her workshop experience, "The hands-on practice in training marine mammals was something I had always dreamed of. It was a very proud moment for me when I gave my first trained signal to a dolphin and he understood me and performed the correct behavior! It was great to have a way to communicate with a dolphin."
Other participants had similar stories to report. Erin McLoughlin said, "I learned with the young dolphins I needed to move a little slower and have crisp signals so that there was no confusion. I noticed the older dolphins were more patient with me when I made mistakes."
Although "dolphin trainer" job titles are often the most coveted, by learning to train multiple species in the Academy programs students increase their job opportunities. Wood clarified this point, "The animal training techniques that we teach are effective with all species – even humans."
If learning to train dolphins isn't exciting enough, an added bonus for course participants is the beauty of the Mexican Caribbean. McLoughlin, from Michigan, "The Riviera Maya is a wonderful place to visit with the tropical scenery and the never ending beaches. It was a paradise for me since I love to snorkel and scuba dive. The people were always friendly and learning about the culture was a really great experience. I definitely want to travel back to Mexico again!"
###