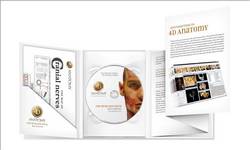 "We are very pleased to offer our first release, the 4D Head and Neck Edition, which takes full advantage of our image based differentiation." Dr. Attila Balogh, M.D. Founder, 4D Anatomy
Phoenix, AZ (PRWEB) February 21, 2011
4D Anatomy LLC, the leading developer of image based human anatomy software, today announced the availability of the initial release of the 4D Anatomy Platform, the Head and Neck Edition.
The 4D Anatomy Platform provides the capability to capture multidimensional laboratory dissection experiences and deliver them to the desktop by reconstructing high resolution photographic images of microsurgical dissections in an interactive fashion. The initial product module introduction, the 4D Anatomy Head and Neck Edition, has been created utilizing the 4D patented NeuroArc™ technology. Layers of anatomic dissections have been scanned to create a new experience for medical students and professionals.
According to Dr. Attila Balogh, M.D. and founder of 4D Anatomy LLC, "We developed the 4D Anatomy Platform to provide a comprehensive visual application for medical professionals to experience actual laboratory and operating room environments based on detailed imagery of the human body, as opposed to animation. The result is a product that provides a much improved vision of spatial relationships and delivers the realism of actual dissections of the human body. We are very pleased to offer our first release, the 4D Head and Neck Edition, which takes full advantage of our image based differentiation. Our market research indicates 77% of medical professionals concur that a photography based product is far more valuable than animation."
The 4D Head and Neck Edition is provided with a full function viewing capability that includes rotation, panning, zooming and layered viewing with a detailed syllabus that documents anatomical references as well as a full quiz capability for education. Demonstration and video tutorials are available at http://www.4danatomy.com.
The 4D Anatomy Platform is founded on an open architecture environment that provides the ability for institutions to license the 4D NeuroArc™ capture technology and contribute additional body modules. The newly available 4D Head and Neck Edition is the initial release of the platform. The product is retail priced at $349 and can be purchased at http://www.4danatomy.com. Institutional volume discounts are available to accelerate adoption in medical schools and neurological institutions, contact sales(at)4danatomy(dot)com for further details.
About 4D Anatomy LLC
4D Anatomy LLC develops and delivers sophisticated anatomy applications to the healthcare and educational marketplaces. Dr. Attila Balogh recognized a need for an interactive anatomy teaching tool based on photography as opposed to animation and in response developed the NeuroArc™ imaging system and software to collect and reconstruct actual photographic images of anatomical dissections. The assembled images create the first image based four dimensional anatomy atlas.
4D Anatomy LLC was founded in 2006 and is based in Phoenix, AZ, with laboratory and partnership with Semmelweis University, one of Europe's leading centers of medicine and health sciences. 4D Anatomy has been granted multiple international technology and process patents.
# # #