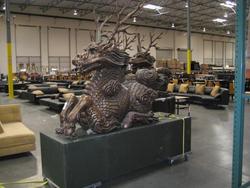 City Center Las Vegas is offering over 1000 items from Aria, Vdara, Mandarin Oriental and Veer Towers
(PRWEB) February 17, 2011
City Center Las Vegas is offering over 1000 items from Aria, Vdara, Mandarin Oriental and Veer Towers sold via Live Global Webcast Auction on February 21st starting at 11am PST. Bidders may participate live online at http://www.cagp.com
"This auction is an incredible opportunity for anyone to buy designer items at a fraction of the original cost" said Adam Alexander, CEO of CA Global Partners.
All items are being sold without minimum or reserves, and can be bid on live at http://www.cagp.com Items include brand new and used, model samples, display pieces & showroom samples from such exclusive designers as Poltrona Frau, Lily Jack, Carson's Hospitality, Moooi & Maarten Baas. The richness and diversity of City Center is represented in this unique offering of modern, classical and retro furniture and accessories in a variety of colors, styles, fabrics and designs.
CA Global Partners (formerly Cowan Alexander) is a leading global webcast auction and capital recovery company, headquartered in Los Angeles, California, providing custom-tailored asset disposition services to investors, lenders and companies. CA Global Partner's experienced team of professionals has successfully sold more than $1 billion in assets and have completed more than 1,000 projects worldwide. CA Global Partner's ability to plan, execute and deliver superior results has earned the company a reputation of excellence in the auction and capital recovery industry. For more information, visit http://www.cagp.com.
###