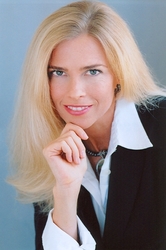 Being featured in Sports Illustrated Swimsuit is the ultimate affirmation for a designer.
Honolulu, HI (PRWEB) February 18, 2011
Attorney/ designer, Erika Ireland is celebrating the success of Hula-la! (http://www.hula-laswimwear.com) making it into the highly competitive Sports Illustrated Swimsuit 2011 release. Her Modern Love Bikini is featured on Sports Illustrated Swimsuit model, Shannan Click. Ireland is extremely honored to have been included. She states: "Sports Illustrated Swimsuit is the Oscars of the swimwear industry. It is extremely competitive, with virtually every swimwear designer around the world submitting swimsuits. It is a tremendous validation."
Erika Ireland is not your typical swimsuit designer. Her background is in business and law. She has an accounting degree and Juris Doctor and is a practicing attorney at Bronster and Hoshibata in Honolulu, Hawaii. She is a former prosecuting attorney and seasoned litigator.
Her entrepreneurial spirit and creative flair sprang from growing up on the sandy beaches of La Jolla, California and Lahaina, Maui. It was Erika's quest to find the perfect bathing suit that steered her career toward a more creative outlet. "I've always been on the beach, surfing, swimming, running and staying active," says Erika. "I just couldn't find bathing suits that were both functional and flattering and that looked good in and out of the water."
While Erika did not have a formal design background, she had a great sense of fashion and knew what shapes, colors and designs flattered the figure. Having practically grown up in a bathing suit, Erika knew what designs would make women look and feel great.
Erika believes her diverse experience greatly contributed to her success with Hula-la! "It is not just about creating a swimwear line, it is about building a brand and running a company", says Ireland. "You can learn the technical side of design and hire people to execute your vision, but ultimately you need to have the business acumen to build a successful brand." Ireland credits the practice of law for giving her the confidence, determination, problem-solving and negotiation skills that are critical in developing, establishing and running a flourishing company.
Ireland has certainly been successful with Hula-la! This is the company's second appearance in the prestigious Sports Illustrated Swimsuit. (Hula-la! was previously featured in the hard cover Sports Illustrated Swimsuit book and SI.Com). Hula-la! is a favorite of Hollywood celebrities (including Britney Spears), has graced the covers of national magazines, such as Women's Health, US Magazine, and Life and Style, and has been featured in Surfing, Oxygen, People, Star, and many others. Hula-la! has also been voted one of the top ten hottest new surf brands in the nation.
Hula-la! is based in Kailua, Hawaii and is carried by select stores across the nation, as well as the Hula-la! luxury flagship boutique at the iconic Royal Hawaiian Hotel in Waikiki.
http://sportsillustrated.cnn.com/2011_swimsuit/models/shannan-click/11_shannan-click_11.html
http://sportsillustrated.cnn.com/2011_swimsuit/models/shannan-click/11_shannan-click_10.html
###