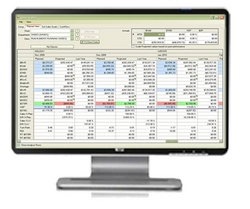 Monitor key information at all times to compare actuals against plan.
Fountain Valley, CA (PRWEB) February 19, 2011
CAM Commerce Solutions, LLC. announced today that it has begun shipping a newly created Open-To-Buy (OTB) module for its Retail STAR point-of-sale software. Although the Open-To-Buy module is fully integrated with Retail STAR, its feature set rivals standalone software packages costing ten of thousands of dollars. Because it is integrated, plans and budgets are updated automatically as a store conducts their daily business utilizing the Retail STAR point-of-sale software suite.
"We are proud and very excited about our new Open-To-Buy module," stated Chester Ritchie, Senior Vice President of CAM Commerce Solutions. "The sophistication and ease of use of this new software will allow everyone from a small retailer to a large chain to easily establish budgets and measure performance with the click of a button." Budgets can be established by Corporate, Store, Department, and Class levels or any combination of these. Budgets are easily created by the auto-populate feature offered in the module. Prior sales history or a derivative of previous historical sales can also be used to establish budgets automatically.
Once budgets are established, Retail STAR OTB offers interactive reporting that shows store performance against budget. Budgets and Actuals can be viewed at a high corporate level or drilled into and presented at a Store, Department, or Class level. This type of granular data helps buyers, for stores and departments, track their inventory and sales performance and ultimately their open buying dollars.
To make buying decisions even easier, Retail STAR OTB also offers advanced analytics within the buying plan. These various retail calculations can be used to analyze sales trends. Buyers can view performance throughout the day as their budgets are updated in real time. Multiple years of information is displayed on the plan for comparisons. A special section of the plan also holds notes from previous periods so buyers can make note of special circumstances impacting sales.
To find out more about the newest feature of Retail STAR point-of-sale software, please contact a CAM Commerce Solutions sales representative at 866-840-4443.
About CAM Commerce Solutions
CAM Commerce Solutions, LLC provides fully integrated multi-channel commerce solutions for small and medium sized retailers. These solutions are based upon CAM's open architecture software products for inventory management, point-of-sale, sales transaction processing, customer loyalty, accounting, and eCommerce. These solutions include hardware, installation, training, service, and bundled payment processing services. You can learn more about CAM Commerce Solutions at http://www.camcommerce.com.
# # #