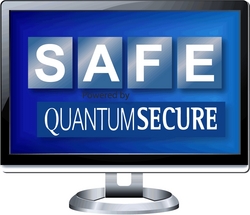 San Jose, CA (PRWEB) February 22, 2011
Quantum Secure, the leading provider of enterprise software to manage and streamline security identities, compliance and events across disparate physical security systems, today announced that one of the largest combination natural gas and electric utilities in the United States has selected the SAFE software suite for its physical identity, access and compliance management, including audit, attestation, remediation and compliance for relevant NERC CIP regulations with real-time policy enforcement.
This utility company provides natural gas and electric service to approximately 15 million people throughout a 70,000-square-mile service area, with 141,215 circuit miles of electric distribution lines and 42,141 miles of natural gas distribution pipelines.
With the Quantum Secure SAFE suite, this organization aims to significantly streamline their physical identity and access management efforts and simplify their NERC compliance challenges, resulting in increased security, simplified management of CIP controls and substantially reduced costs related to physical security operations.
Systematic physical identity, access and related policy management across the utility infrastructure - including Smart Grid operations, remote distribution electric substations, access to control rooms and to SCADA systems by employees and contractors - will significantly tighten security, reduce risks and save operating costs.
SAFE automates the compliance of key NERC standards CIP 004-3 through CIP 006-3, including specific controls related to authorized unescorted physical access to critical cyber assets and the automation of access revocation due to cert expiration or employment termination in near real time across the entire physical access environment based upon NERC policies and rules. These controls also cover issues such as background checks, training, the trending of alarm events and enterprise-wide reporting.
"Our SAFE Physical Identity & Access Management solution is a major step forward in the energy space," said Ajay Jain, president and CEO of Quantum Secure. "As a chosen technology by several critical nuclear and non-nuclear labs of the U.S. Department of Energy, along with our other commercial energy customers engaged in production and distribution of gas and electricity, we are enabling utility companies and nuclear sites to systematically and cost-effectively improve their compliance and risk management posture."
About Quantum Secure, Inc.
Quantum Secure's SAFE software suite provides a single, fully interoperable and integrated physical security policy platform to manage and streamline security identities, compliance, events and operations across multiple disparate physical security systems. Quantum Secure's customers include the U.S. Air Force, the U.S. Department of Energy, the U.S. Department of Health and Human Services, Adobe Systems, AMD, AT&T, Baxter International, British Telecom, Juniper Networks, Oracle, Symantec Corporation, San Francisco International Airport and the Toronto Pearson International Airport. For more information, visit http://www.quantumsecure.com.
###