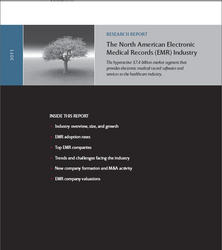 The EMR technology industry is poised to continue its rapid growth and change driven by powerful forces of high demand, low penetration, and ample funding opportunities
Hopkins, MN (PRWEB) February 21, 2011
Cherry Tree & Associates, LLC announced today at HIMSS11, the Healthcare Information and Management Systems Annual Conference and Exhibition, that it has released a new research report on the Electronic Medical Record (EMR) segment of the healthcare IT industry. The report includes an industry overview in terms of the size and growth of the industry; EMR adoption rates; top EMR companies; the trends and challenges facing the industry; private and public EMR company market valuations; mergers & acquisitions activity; private EMR company investment activity; and an industry outlook of what the industry might expect over the coming years.
The report's findings quantify the high level of new EMR company formations and acquisitions, and identifies the growth drivers that are influencing such dramatic growth and investment activity in an otherwise overall lackluster economic context. The report also reveals that there appears to be a disconnect between what Federal regulators and EMR providers feel can be delivered by EMR technology and what healthcare organizations are actually able to achieve at the present. The report includes expected outcomes for how the industry will mature and consolidate over the coming years and suggestions on how the EMR value proposition can be improved upon in order to reach its full potential for the healthcare industry.
"The EMR technology industry is poised to continue its rapid growth and change driven by powerful forces of high demand, low penetration, and ample funding opportunities amid an ever growing field of innovative companies and technologies attempting to deliver on the promise of more efficient healthcare. The race to win this space is far from over," stated the report's author, Wade Myers, managing director and leader of the firm's Dallas/Fort Worth office.
Organizations interested in further details about this research can receive a complimentary copy of the report by contacting the firm at 952-893-9012 or info(at)cherrytree(dot)com.
About Cherry Tree
Cherry Tree is a financial advisory firm offering investment banking, investment management and wealth management services. Established in 1980, the firm is headquartered in Minneapolis, Minnesota, and specializes in serving entrepreneurial managers and successful families. Cherry Tree provides investment banking services through its FINRA-licensed broker-dealer. Its M&A practice works with successful entrepreneurial business leaders and established corporations to build value and maximize liquidity opportunities and the company's institutional private placement services are offered to growing companies that offer a unique business vision. For more information, visit http://www.CherryTree.com.
# # #