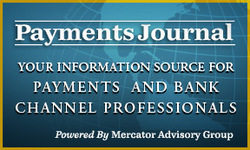 PaymentsJournal is a natural extension of the ongoing dialog we are having with our clients and with those shaping the future of the industry. This platform enables immediate engagement on the issues of the day by leveraging our deep expertise.
Boston, MA (PRWEB) February 19, 2011
Mercator Advisory Group, the leading, independent research and advisory services firm focused exclusively on the payments and banking industries, is pleased to announce the launch of PaymentsJournal. This dynamic industry hub is the only analyst and research-driven payments and banking portal delivering the latest news, expert analysis, focused content, and developments that matter most.
What differentiates PaymentsJournal from other respected industry aggregation sites is:

News filtration is more powerful. Our headlines are filtered through a robust news aggregator developed in-house. The selection of news is further refined by Mercator Advisory Group's staff of respected, independent payments and banking analysts selecting and putting into context the news you need to know today.
More analyst commentary, uploaded research content. Mercator Advisory Group is uniquely positioned to serve as an independent resource and platform for gathering the best industry content available based on our extensive relationships with payments and bank-channel professionals.
Our model creates an open forum. Our platform allows for the open exchange of information and ideas free of charge for the user.
Robert Misasi, President of Mercator Advisory Group comments, "Since 2003, Mercator Advisory Group has actively served the leading firms in the payments industry. We produce and publish industry-leading reports, briefs, viewpoints, webinars, and public presentations. PaymentsJournal is a natural extension of the ongoing dialog we are having with our clients and with those shaping the future of the industry. This platform enables immediate engagement on the issues of the day by leveraging our deep expertise."
Offered as a free resource, PaymentsJournal provides an all-encompassing reach into the payments and banking market and delivers exceptional value to its readers. It also offers advertisers the opportunity to reach a highly qualified and targeted group of professionals that have buying power.
Mercator Advisory Group's goal during the development of PaymentsJournal was to create an open forum that engages the industry. PaymentsJournal meets this goal by offering industry leaders the opportunity to reach the market by sharing commentary, ideas and content related to company and product developments.
Best of all, PaymentsJournal is intuitive and user-friendly. The site is easy to navigate, and content is strategically organized and readily searchable. These benefits make PaymentsJournal an excellent reference for anyone seeking information on a broad range of payment and bank-channel related topics.
PaymentsJournal sections include:
Perspectives:
A collection of regularly updated and insightful opinions by Mercator Advisory Group analysts and industry thought leaders.
Strategy Sessions:
Topical in nature, Strategy Sessions host a wealth of articles, data points, and other content that provides meaning insights into top-of-mind topics in the payments and banking sectors.
Leveraging the open forum concept, PaymentsJournal Strategy Sessions also allow for companies to host their own Strategy Sessions and showcase their expertise and solutions and engage readers.
Industry Page:
The PaymentsJournal Industry page provides leading industry RSS feeds, video presentations, and opinions submitted by well respected industry thought leaders.
Library:
The PaymentsJournal Library houses an assortment of publically available industry documents from whitepapers and case studies to PowerPoint presentations and product sheets. PaymentsJournal allows users to freely upload documents for consideration as an addition to the library.
Buyers Guide:
Unlike standard Buyers Guide listings, PaymentsJournal not only offers companies the opportunity to post a 250-word corporate overview, logo and contact information, but also documents and executive profiles to help better position firms as go-to partners to our readers. These previous features are all complimentary, and additional documents can be added for a minimal fee.
Calendar:
The PaymentsJournal calendar is an extensive list of industry events as well as an opportunity for our media and event marketing partners to advertise their events through colorful-display banner advertising.
Jobs:
Our Jobs page provides extensive listings of payments and banking employment opportunities while offering a gateway for employers to reach qualified professionals.
In coming weeks, Mercator Advisory Group will launch new content areas and features on PaymentsJournal including the PaymentsJournal Newsletter, which will feature linkable content highlighting the day's headlines and the newest content posted on PaymentsJournal. The HTML newsletter will be delivered directly to the email boxes of our readers and provide a preview option which allow a content scan without opening the email.
For more information or to learn about advertising opportunities, please visit the site for a Media Kit and feel free to contact us at paymentsjournal(at)mercatoradvisorygroup(dot)com
Please visit Mercator Advisory Group online at http://www.mercatoradvisorygroup.com.
For more information please call Mercator Advisory Group's main line: (781) 419-1700, send E-mail to info(at)mercatoradvisorygroup(dot)com.
Follow us on Twitter @ http://twitter.com/MercatorAdvisor.
About Mercator Advisory Group
Mercator Advisory Group is the leading, independent research and advisory services firm exclusively focused on the payments and banking industries. We deliver pragmatic and timely research and advice designed to help our clients uncover the most lucrative opportunities to maximize revenue growth and contain costs. Our clients range from the world's largest payment issuers, acquirers, processors, merchants and associations to leading technology providers and investors.
# # #