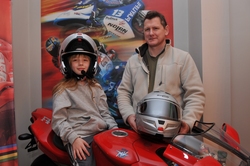 The whole trip, from start to finish, was incredible!
Peterborough, UK (PRWEB) February 19, 2011
When John Mair shared his dream on the Bennetts Biker Dream website, his request was modest - a pair of Bluetooth compatible helmets for himself and his nine-year-old daughter, so that they could better communicate when she rides pillion on his motorcycle. However, the Plymouth man got a lot more than he dreamed of when he and daughter, Chloe-Ann, were whisked away to Italy to witness the helmets being manufactured.
Even better was the fact that an additional surprise on arrival at the Nolan helmet factory meant that the pair were lucky enough to meet some of the world's most successful bike racers, including current MotoGP World Champion Jorge Lorenzo.
The trip - organised by Bennetts, the UK's No. 1 for bike insurance* as part of their 80th anniversary campaign to fulfil £80,000 worth of biker dreams - was an unforgettable one for the pair and Chloe-Ann was eager to get back to school and update her classmates on the exciting adventure on her return.
After watching the production process right through from grains of dust to the completed helmets and a variety of safety tests, John and his daughter were presented with their helmets, ensuring many more years of enjoyable pillion riding together. Chloe-Ann even provided some valuable input into the needs of child riders on UK roads.
"The whole trip, from start to finish, was incredible!" said John. "My daughter Chloe-Ann and I had a fantastic time and we both really enjoyed it. I was actually quite surprised at how interested she was in the helmet production process. She simply hasn't stopped talking about it!
"That in itself was more than we dreamed of, but we also had the privilege of meeting Marco Melandri, Carlos Checa and Jorge Lorenzo. What more can you possibly ask for?! The entire team at Nolan were so hospitable and really went out of their way to make sure we had an amazing day. I would just like to thank everyone that worked together to make our Bennetts Biker Dreams come true. I was amazed when I got the call to say that my dream had been chosen for fulfilment, but the unexpected trip to Italy was an amazing experience and one that we will never forget."
Bennetts Communications Manager Michael Mann, who accompanied them on the trip, said: "The main purpose of Bennetts Biker Dreams is to give a helping hand to passionate riders who have dreams they would like to fulfil. With this one, we helped a rider of the future as well as a current UK motorcyclist and it was brilliant to see their reactions first hand at the Nolan factory."
The Bennetts Biker Dreams website will re-launch later this year, giving even more motorcyclists the opportunity to achieve their biggest biking ambitions. In the meantime keep an eye on http://www.bennettsbikingdream.co.uk to view other dreams that have been fulfilled and to read about celebrity two-wheel aspirations.
For further information and/or interview opportunities please contact
Joshua Van Den Bos on 01652 680060
*Based on brand tracking research in June 2010
Notes to editors
Bennetts is a trading name of BISL Limited, Pegasus House, Bakewell Road, Orton Southgate, Peterborough, PE2 6YS. Registered in England No. 3231094.
BISL Limited is authorised and regulated by the Financial Services Authority.
THE BACKGROUND TO BENNETTS
•Bennetts was established in Coventry by the Bennetts family in 1930 to provide insurance services to people throughout the West Midlands.
•In the early 1980's Bennetts decided to devise a number of specialist insurance schemes that would meet the needs of different types of biker. These schemes are constantly reviewed to give bikers the exact cover they need.
•In 2000 Bennetts was the first motorcycle insurance specialist to offer the ability to buy insurance online, through its website, http://www.bennetts.co.uk.
•In October 2001, the Bennetts brand was acquired by the BGL Group (formerly the Budget Group of Companies), through its purchase of the Dial Direct Group, a major UK car insurance intermediary.
•The BGL Group was established in 1992, and has grown to be the UK's third largest personal lines insurance intermediary, through a combination of organic growth and a series of major strategic acquisitions.
•The BGL Group now arranges and administers insurance for around 2.3 million customers with more than £600million GWP. It has contact centre operations in Peterborough, Coventry, Sunderland and Cape Town, South Africa. It currently employs over 2,000 people and its head office is in Peterborough.
•In May 2003, Bennetts unveiled its new brand identity to the industry.
•In November 2009 independent brand tracking research identified Bennetts as the UK's No. 1 brand for bike insurance.
•In January 2005, Bennetts signed the biggest sponsorship deal in the history of the brand by becoming title sponsor of the 2005 Bennetts British Superbike Championship. Bennetts continued its sponsorship of the British Superbike Championship in 2006, 2007 and 2008.
•In June 2007, Bennetts became official series sponsor of the World Superbike Championship for the remainder of the 2007 championship and for the whole of the 2008 championship.
•Bennetts has been personal sponsor of two-time World Superbike Champion James Toseland since July 2007.
###