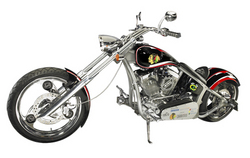 "There were lots of 'American Chopper' fans in attendance who couldn't get enough of looking at and taking pictures with the bike...they wanted a chance at owning a one-of-a-kind piece of memorabilia from the popular reality TV show."
Chicago, IL (PRWEB) February 21, 2011
Chicago Blackhawks and Orange County Choppers fans who want to be in the running for the OCC custom-built bike featuring the 2010 Stanley Cup champions better hurry. The bike's sponsor, Aaron Equipment Company, urges them to stop by a Blackhawks home game or charity event soon to purchase a raffle ticket before time runs out. The bike, which was custom-built by Paul Teutul's "American Chopper" team, bears the signature of the 2010 Blackhawks players and coaches. One lucky winner will be drawn on April 12, 2011 from all raffle tickets purchased and will walk away the proud owner of this one-of-a-kind motorcycle. Proceeds will benefit the Chicago Blackhawk Charities, the Special Kids Network, and the OCC Foundation.
When the International Motorcycle Show came to Chicago February 11–13, 2011, Aaron Equipment Company showcased the bike to attendees. As the only OCC bike at the show, the Chicago Blackhawks charity motorcycle drew quite the crowd. But booth swarmers weren't there just to ogle the bike. They were also slapping down money in the name of philanthropy and a chance to get their hands on this custom-built bike.
"We sold far more raffle tickets than we anticipated," says Bob Perna, the bike's handler and spokesman. And it wasn't just fans of the Stanley Cup–winning team tossing their name into the hat. "There were lots of 'American Chopper' fans in attendance who couldn't get enough of looking at and taking pictures with the bike. Regardless of their hockey loyalties, they wanted a chance at owning a one-of-a-kind piece of memorabilia from the popular reality TV show."
Paul Teutul, Sr., the man behind the Orange County Choppers phenomenon, personally unveiled the bike at a Blackhawks home game back in October, when he drove it out on the ice. The Blackhawks logo is prominently displayed on the gas tank, which is autographed by players and coaches of the Stanley Cup Championship team. The bike's rims emulate hockey sticks and pucks while the handlebars depict the taped butt-end of a hockey stick.
Aaron Equipment Company, which is located just outside of the Blackhawks' home turf of Chicago, got the idea for the charity bike and couldn't pass up the opportunity to sign on as a sponsor. So, they leveraged their longtime working relationship with the Orange County Choppers into a main sponsorship foothold.
Four months later and time is quickly running out on the chance to win the Chicago Blackhawks Chopper. Raffle tickets are available at all Blackhawks home games and at charity events up until the drawing day of April 12, 2011.
Individuals who would like to learn more about the Chicago Blackhawks 2010 Stanley Cup Champion motorcycle can do so online at http://www.aaronequipment.com/BlackhawksChopper.html. For more information on Aaron Equipment Company's sponsorship of the bike, contact Michael Cohen at 630-350-2200.
###