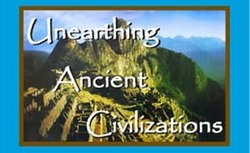 "Since my discovery of the Bosnian pyramids in 2005 I have been very puzzled about Dr. Hawass' steadfast refusal to acknowledge the legitimacy of this site in Bosnia regardless of the scientific facts we have amassed," said Dr. Sam Osmanagich
Houston, TX (PRWEB) February 20, 2011
All three of the speakers appearing at the Unearthing Ancient Civilizations Conference on Saturday, March 5th in Houston, TX have worked extensively in Egypt and with the Egyptian government.
Dr. Sam Osmanagich who discovered the first pyramids on the European continent in 2005, has long been at odds with dr. Zahi Hawass, head of Egyptian Antiquities.
The conference will also spotlight the works of Andrew Collins and Chris Dunn, both veteran researchers and authors about the ancient sites in Egypt.
"It will certainly make a compelling question for the panel discussion to ask these three gentlemen about their experiences with the Egyptian government and whether they see a big change coming in the ancient site arena. They are the experts and have been working with and writing about these sites for years, " said Peggy Sue Skipper, emcee for the conference.
Conference Details:
Saturday, March 5, 2011
8am – 5:30pm followed by a book signing
Unity Pyramid, 2929 Unity Drive
$99.00 per person – lunch included
The next Unearthing Ancient Civilizations Conference will be in Phoenix, AZ in the fall of 2011. To receive information about future conferences sign up for a free subscription to The New Era Times online newspaper at http://www.theneweratimes.com
Dr Sam Osmanagich http://www.samosmanagich.com
Andrew Collins http://www.andrewcollins.com
Chris Dunn http://www.gizapower.com
# # #