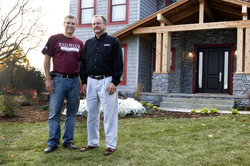 The Perfect Balance of Cost and Customization
Anderson, IN (PRWEB) February 19, 2011
Indiana Home Builder, Hallmark Homes, has been featured in the recent 2010 winter edition of Construction Leaders Today Magazine. The quarterly magazine writes about the top residential and commercial builders in the United States. "The Perfect Balance of Cost and Customization" features Hallmark Homes' co-founders Derek Wilder and Paul Schwinghammer's vision of building affordable custom built homes in the Midwest.
The article summarizes a brief history of the company, founded in 1992, when a real need for builders who would allow people to build affordable custom homes on their lot was identified. Today, Hallmark Homes is proud to be one of the largest custom builders in the Midwest. With Derek Wilder's business proficiency and Paul Schwinghammer's real estate expertise, Hallmark Homes has become a trusted name in affordable custom home building.
Attention to detail is the working principle behind every Hallmark Home. President Paul Schwinghammer states, "I go through each home with a fine tooth comb, crawl into crawl spaces and the attic and go over the house as if I were going to live in it myself". This is the kind of meticulousness that earned Hallmark the 2010 Angie's List Super Service award. Hallmark Homes is also a recipient of the coveted Keystone Award and Residential Warranty National Award of Distinction.
"Though the recent economic crisis hurt the industry as a whole, it was not for lack of people who want to build homes," said Wilder. The drop in sales was caused by people being disqualified from acquiring bank loans. This necessitated a need for modifications in the way builders did business. Hallmark extended their support to clients by helping them to personally procure construction financing as opposed to using large lines of credit.
In the fall of 2009 the Indiana home builder was tapped by ABC's Extreme Makeover: Home Edition to build a custom home for a deserving family. It was not only a gratifying experience for the recipients but for the builder themselves. In the words of CEO, Derek Wilder, "It was great to be a part of something bigger than yourself".
The future of Hallmark Homes is well charted. Derek Wilder summed it up neatly saying, "Our goal is to continue to expand into other areas of the Midwest and look forward to continuing to serve our customers in local communities." To learn more about Hallmark Homes, visit their website at http://HallmarkHomes.com/
# # #