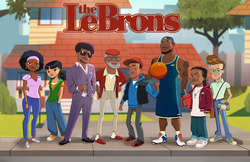 "This has been an amazing state-of-the-art production, developing a cast of dozens of characters in a way that created lifelike facial expressions and more realistic dialogue from an animated series," said Andrew Egiziano, Co-Founder of Dru Dog Production
New York, NY (PRWEB) February 19, 2011
"The LeBrons", the new, original animated Web series soon-to-be-launched by LeBron James through his production company Spring Hill Productions and New York-based digital entertainment company Believe Entertainment Group today announced the all-star voice cast for the show and the production team led by Dru Dog Productions, comprising renowned, top talent from across the animation business.
"The LeBrons" is a family entertainment show designed to provide positive messages to today's youth and young adults and features four characters – KID, WISE, BUSINESS and ATHLETE – that were originally inspired from a series of Nike television commercials starring LeBron James. The show will tackle a wide variety of subjects, including family, teamwork, friendship, giving back to the community, staying in school, staying out of trouble, and more, all done in an edgy, fresh and relatable way.
Niecy Nash, last seen on The Style Network's home makeover show, "Clean House," and as a celebrity correspondent for CBS' "Entertainment Tonight" will be the voice of GLORIA, the mother figure of "The LeBrons." Niecy just recently announced plans to partner with TLC for a two-hour wedding special following the bride-to-be's upcoming nuptials to fiancé Jay Tucker.
"When I was asked to be a part of this project I jumped at the chance!" said Niecy Nash. "I'm a fan of LeBron's and I was interested in seeing him in a different light, not to mention the fact my arm didn't have to be twisted to play the only woman in a male dominated world! I love it!"
Grammy nominated record artist Drake ("Thank Me Later," 2010) will be featured in an episode of "The LeBrons" as himself.
Music producer/writer/performer Ali Dee Theodore ("Ali Dee") and his company DeeTown Entertainment will write and produce the music for "The LeBrons," including the show's opening theme song. Since 2005, Ali Dee and the Dee Town team have contributed music to 27 #1 box office movies, and are known for writing and producing music and soundtracks for films and artists including Night at the Museum (1 and 2), Transformers, Speed Racer, Alvin and the Chipmunks (1 and 2), Hannah Montana the Movie, The Jonas Brothers, Mary J. Blige and Natasha Bedingfield, among others.
Andrew "Big Kish" Kishino also contributed original episode scores and LeBron commercial spots.
The voice cast for "The LeBrons" is an accomplished group of actors with decades of experience and a deep footprint in some of the best in animation, film and video games. Voice cast for The LeBron family characters include Wesley Jonathan (What I Like About You, Roll Bounce, Crossover) as KID LeBron, Alex Desert (Swingers, High Fidelity, The Avengers: Earth's Mightiest Heroes) as WISE LeBron, and Dempsey Pappion (War of the Worlds, Fun with Dick and Jane, Post Grad) as ATHLETE LeBron. LeBron himself will be the voice of BUSINESS.
Additional cast includes Michael Bell, known for myriad animated, film, and video game roles from The Transformers: The Movie and Tangled to Rugrats and Cars, Dave Fennoy (Mafia II, Starcraft II: Wings of Liberty), Tanja Gold, Andrew Kishino (Kung Fun Panda, G.I. Joe: Renegades), Adam McArthur (Scooby-Doo! Spooky Camp Stories, El Dorado), Aileen Ong (Jawbone) and Jason Weaver (vocals for Simba in The Lion King, The Jacksons: An American Dream, Smart Guy).
New agency, Los Angeles-based Dru Dog Productions managed physical production for "The LeBrons." Dru Dog was co-founded in 2010 by Andrew Egiziano and Nicholisa Contis and builds on their extensive experience in animation production and film development.
"This has been an amazing state-of-the-art production, developing a cast of dozens of characters in a way that created lifelike facial expressions and more realistic dialogue from an animated series," said Andrew Egiziano, Co-Founder of Dru Dog Productions. "We've also been fortunate to have HP and Intel as title brand sponsors of the show. They've helped provide the technology that has made a lot of the production possible. It all makes for tremendously believable and likeable characters that will yield a truly entertaining series to watch."
The creative team for "The LeBrons" included top talent from throughout the animation business. To create the unique and exciting visual world of "TheLeBrons," DruDog called upon director Ido Gondelman in collaboration with Ricardo Curtis, and his imaginative company, House of Cool, Inc. Mr. Gondelman and Mr. Curtis developed the original ideas from writers Nick Holly and Fred Goss into the rich, character-driven stories of "The LeBrons." Under the vocal direction of voice actor and coach Michael Bell, the voices spring to life with a natural storytelling ambience. Dru Dog utilized the support and resources of the animation house Digital eMation, in Seoul, South Korea, precision edition was provided by Andy Tauke (Seth MacFarlane's Cavalcade of Cartoon Comedy) and post-production was done by Hacienda Post (SpongeBob Squarepants, Samurai Jack) in Los Angeles.
"We knew it would be critical to have this kind of world class team assembled in order to realize LeBron's vision for the show," said Dan Goodman and William H. Masterson III, co-Founders, Believe Entertainment Group. "He's pushing the boundaries and together we're helping to forge new ground in the digital entertainment space."
Believe Entertainment Group will finance, sell and distribute the 10-episode digital series and partner with LeBron James and Spring Hill Productions on sales and all business efforts for the show, including engaging brands and delivering the show to James' massive social network and LeBronJames.com. "The LeBrons" will live on a YouTube channel at youtube.com/thelebrons and will be heavily promoted and distributed through LeBron's Facebook and Twitter channels as well as a dedicated section of LeBronJames.com
About LeBron James and Spring Hill Productions
LeBron James, 2009 and 2010 NBA Most Valuable Player, is an internationally recognized basketball superstar who plays for the Miami Heat. Selected to the NBA All-Star team every year after his rookie season, as the overall No. 1 pick in the 2003 draft, LeBron has electrified fans across the globe with his dazzling play and record-breaking achievements. He is the youngest player in NBA history to win Rookie of the Year honors and reach 15,000 career points. LeBron served as a co-captain of the Team USA basketball team that won the Gold Medal with an undefeated record at the 2008 Summer Olympics.
Off the court, James is actively involved in a wide range of philanthropic endeavors. LeBron is an avid supporter of Boys & Girls Clubs of America and through a national initiative the LeBron James Family Foundation donated 1000 HP computers to the organization in 2010. He continues to give back to the city of Akron and in 2010 LeBron has donated 1000 HP computers to Akron Public Schools "After-School Program" as well. LeBron James hosts the annual State Farm King for Kids Bike-a-thon, whose proceeds are donated to the Akron Area YMCA and the Akron Urban League. In addition, James and the LJFF have installed playgrounds in New Orleans, Phoenix and Dallas, as part of an initiative that began in 2008 during the NBA All-Star activities.
In 2008, LeBron James and his business partner, Maverick Carter created Spring Hill Productions and executive produced More Than a Game, a documentary which chronicles LeBron and his teammates at St.Vincent-St. Mary High School in Akron, Ohio and their seven-year journey which culminates with a national high school championship. More Than a Game debuted to critical acclaim at the Toronto Film Festival in September 2008 and was runner-up for the People's Choice award to the eventual Academy Award winner Slum Dog Millionaire. The film opened domestically in the fall October of 2009 and was nominated for a 2010 Independent Spirit Award for Best Documentary.
About Believe Entertainment Group
Believe Entertainment Group is a digital entertainment company focusing on premium entertainment experiences through direct partnership with elite talent and leading brands delivered through a variety of digital outlets such as web, mobile, VOD, social media, gaming, and more. In April 2010, Believe Entertainment Group announced an alliance with Paramount Digital Entertainment (PDE) working together on the hit digital series The Legion of Extraordinary Dancers (The LXD), created by Jon M. Chu (Step Up 2: The Streets and Step Up 3D) and distributed through Hulu. Recently, Believe Entertainment Group expanded its partnership with MommyCast, the Webby Award winning multi-medium show for moms, and announced the launch of MommyCast Latina, a first-of-its-kind, original HD web show specifically for the Latina mom. Formerly, Dan Goodman and William H. Masterson III, Co-Founders of Believe Entertainment Group, have launched previous digital entertainment projects including Seth MacFarlane's Cavalcade of Cartoon Comedy with Family Guy creator Seth MacFarlane and meinspace.com, an online effort to support Sacha Baron Cohen's Bruno, as well as original short form content with the world famous improv troupe, The Second City among others. Their extensive experience in advertising and marketing has led to brand and distribution partnerships with well-known, respected brands such as Burger King, Procter & Gamble, Priceline, Johnson & Johnson, State Farm and Microsoft among others, as well as key distribution relationships delivering scalable audiences for their projects including YouTube, Google, Hulu, Digital Broadcasting Group, MySpace, FLO TV and more.
For more information on Believe Entertainment Group contact: Gretchen Wagner, 917-716-6047, gwagner(at)BelieveEnt(dot)com
About Dru Dog Productions
Dru Dog Productions Inc. is a dynamic production company specializing in 2D and CG animation with experience in Stereoscopic/3D conversion and Live Action production. The objective of Dru Dog Productions is to provide animation services and develop production pipelines specific to the project needs and budgetary concerns of each client. The company was formed by Andrew Egiziano and Nicholisa Contis, multi talented Producers of Animation, Live-Action, and Digital format with extensive comprehensive experience of all phases of pre-production, production, post, delivery and marketing of all media formats. Andrew and Nicholisa bring 35 years of collective studio and small business experience, having worked for companies such as Paramount, Nickelodeon, Disney, Sony and Warner Bros on Feature, Television, Commercials and Stereoscopic/3D conversion.
The team assembled at Dru Dog Production is focused on building and managing workflows and production pipelines optimized to meet client specifications with an eye to providing client integration into each system for proper collaboration and client approval at each stage of production. An emphasis is placed on interpersonal management offering transparent budgeting and cost reporting that integrates with any established or developing entertainment cost reporting structure.
The Dru Dog Production team have produced several projects including the CG film "Barnyard the Movie" and Seth MacFarlanes Cavalcade of Cartoon Comedy as well as various projects for Fox Entertainment's "Family Guy" show and more recently the web based show "The LeBrons". Dru Dog Productions, utilizes business relationships with local talent and overseas studios to achieve the creative and financial goals of each project. The ultimate goal of the team at Dru Dog Productions is to bring the quality of studio level animation relative to client need and budget limitations.
For more information, please contact the Dru Dog production office at: 818-342-6333, Andrew(at)drudogproductions(dot)com or nicholisa(dot)contis(at)drudogproductions(dot)com
###