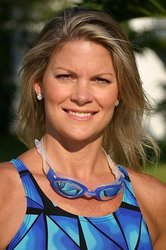 Norwalk, CT (PRWEB) February 19, 2011
HEAD USA is proud to announce the addition of Olympic Gold Medalist Nicole Haislett to its Swim and Snorkeling Division. Nicole brings an impressive background of Competitive Swimming to support HEAD's expanding Swim category in North America.
Nicole is a 3-time Olympic Gold medalist and former American Record Holder. She was a member of two World Championship Teams and a 6 year member of the US National Team. She is a fifteen-time US National Champion, five-time US Open Champion and has won 28 medals in International Competition. A graduate of University of Florida, she was a 28-time All-American, 8 time NCAA champion and 2-time SEC Female Athlete of the Year.
When asked about her new role with HEAD, Nicole replied "To me, the name Head is synonymous with excellence in sport through products and results. With the addition of a Head Swimming line that is
partnered with Mares, an industry leader in water sport products, the result can only be success. I am honored to be working with Head Swimming to create awareness and excitement about their products and to grow the brand within the US market."
In her new role with HEAD, she will be involved in evaluating and developing products for the US's
competitive and recreational swim markets. Nicole will also be a liaison between HEAD USA and USA Swimming, as well as club, collegiate and youth programs.
"We're excited that Nicole has agreed to join our organization," said HEAD Swimming Manager, Jon Wilkins. "She has competed...and won...at the highest levels of her sport. Not only does she bring years of industry relationships and expertise to HEAD but she brings her enthusiasm and drive to be 'the best' to our team."
# # #