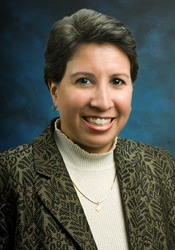 Los Angeles, CA (PRWEB) February 21, 2011
Charla Griffy-Brown, Ph. D., associate professor of information systems at Pepperdine University's Graziadio School of Business and Management, was recently named editor-in-chief of Technology in Society, an international journal dedicated to the economic, political and cultural dynamics of our technological business world, published by Elsevier Ltd. The journal focuses on the social forces that shape technological decisions and the choices that are open to society with respect to the uses of technology. Dr. Griffy-Brown has been a contributor to the journal since 2007.
"I'm very excited about leading the scholarly discourse through Technology in Society," says Griffy-Brown of her new appointment. "This journal is an inter-disciplinary academic journal that has been a vibrant platform for global discussion for 33 years."
Dr. Griffy-Brown was also recently named director of the Center for Teaching and Learning Excellence. The Center will advance the School's understanding of marketplace dynamics affecting working professionals given current and future economic challenges, while also enhancing teaching effectiveness in delivering business education that has relevant and practical value and affirms a higher purpose for business practice.
One of the Graziadio School's most active and prolific researchers, Dr. Griffy-Brown is a member of the newly founded Center for Applied Research, undertaking the mission to promote relevant research that makes an impact on the business community, as well as foster engagement between industry leaders and Graziadio Faculty for research opportunities.
She currently serves as part of an international research team examining technology and business development issues. A former researcher at the Foundation for Advanced Studies on International Development, Tokyo, she has also served as associate professor at the Tokyo Institute of Technology, worked for NASA at the Kennedy Space Center and has taught innovation/technology management courses in Australia, Singapore, Indonesia, Malaysia, and Japan. She previously served as a consultant for the United Nation's Global Environmental Facility and the European Commission.
Dr. Griffy-Brown is a Harvard University graduate, a former Fulbright Scholar and holds a Ph.D. in Technology Management from Griffith University in Queensland, Australia. To find out more about the journal, visit the homepage at elsevier.com/locate/techsoc.
About the Pepperdine University Graziadio School of Business and Management:
Founded on the core values of integrity, stewardship, courage, and compassion, Pepperdine University's Graziadio (GRAT-ZEE-ah-DEE-oh) School of Business and Management has been developing values-centered leaders and advancing responsible business practice since 1969. Student-focused, experience-driven, and globally-oriented, the Graziadio School offers fully accredited MBA, Masters of Science, and bachelor's completion business programs. More information found at bschool.pepperdine.edu/newsroom/.
###