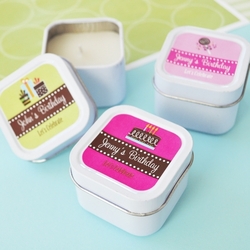 Tustin, California (PRWEB) February 22, 2011
Event Blossom® introduces its new line of personalized birthday favors. The Personalized Birthday favor line incorporates the much-loved edibles and gifts cherished in their wedding and party favor lines, including scrumptious treats like lemonade, hot cocoa, gum boxes, cookie mix, and lollipops as well as innovative party favors such as candy jars, notebooks, and playing cards. Every product features personalization, a new exclusive birthday design, and fashionable color combinations.
Event Blossom embarks on a new market with the launch of the Personalized Birthday favors line, expanding beyond its already successful wedding, bridal shower, and baby shower collections. Without delay, Event Blossom emerges as a contemporary leader in the wedding industry, providing new and ingenious takes on event favors, including wholesale opportunities and a successful drop-shipping program.
"We are so excited to premiere our new Personalized Birthday Party Favor line. Event Blossom has long been known for weddings, but we are now proud to be a part of more of our customers' special events," commented Austin Moore, Sales Manager. The Personalized Birthday favors collection will make any birthday, from toddler to grandparent, all the more memorable.
The Personalized Birthday favors line is available now through Event Blossom's authorized resellers. More information on the new product line and of how to become an authorized reseller can be found at Event Blossom Wholesale Favors website, http://www.eventblossom.com.
Press Contact:
Austin Moore
Event Blossom
http://www.eventblossom.com
(888) 543-0938
NOTE TO EDITORS: For additional information please visit Event Blossom's website or call directly at (888) 543-0938.
Event Blossom® distributes and drop ships wedding, birthday party and special event favors. Event Blossom, and the Event Blossom logo are registered trademarks of Event Blossom.
# # #