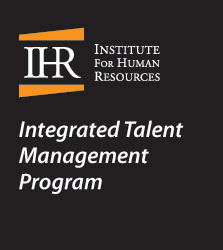 Integrated Talent Management is the most significant way to give organizations access to dramatically improve their effectiveness.
(PRWEB) February 23, 2011
HR.com, the largest social community dedicated to human resource professionals, with 194,000 members, is proud to announce their Advisory Board for the Institute for Human Resources –Integrated Talent Management Certification Program that launched on February 10, 2011.
The launch event was a success with over 1,190 registrants. The Integrated Talent Management virtual event featured over 16 educational workshops from leading experts and HR Professionals. The ultimate goal of the Integrated Talent Management program is to provide certification and accreditation to industry professionals who are interested in advancing their career, obtaining deep domain expertise, valuable hands-on experience and knowledge that will enable them to make measurable improvements in their workplaces.
IHR's certification and accreditation process is developed through an independent Advisory Board composed of industry experts with access to the latest technology, best practices and thought leaders in their respective spaces.
"Integrated Talent Management is the most significant way to give organizations access to dramatically improve their effectiveness. In today's environment where people have become the most important asset, and those same people are increasingly seeking meaning and growth from their employers, companies will be unable to thrive without technologies that provide a clear path and communication to their employees. This certification program will help individuals who embrace talent management to drive user adoption, understand key performance metrics and align the values of the organization with their people." Brian Platz, COO, SilkRoad Technology Inc.
The Advisory Board is comprised of the following professionals:
Chairperson: Jason Averbook, Knowledge Infusion
Facilitator: Pam Koller, HR.com
Industry Representatives:
Mark Hamdan, HRsmart Inc.
Brian Platz, SilkRoad Technology Inc
Jim Bowley, PeopleClick Authoria
Karl Ederle, Taleo
Bill Docherty, SumTotal Systems
Research Representation: Ron Hanscome, HRchitect
System Integrator/Implementer/Consultant: Kelly Cartwright, The Newman Group
HR Professional Representative: Sandhya Johnson, GAF Manufacturing Inc.
The Advisory Board is responsible for guiding the design of the curriculum, and ensuring that the material is impactful and relevant in today's business conditions.
IHR is currently covering 19 key HR verticals ranging from Integrated Talent Management, Contract Workforce and Talent Exchanges, RPO, Quality of Hire, Rewards to Employee Wellness. Each program provides a full list of education, conferences, and accredited certification courses for a 12-month period.
Education, training and certification credits will be available with "authorized partners" as well as with HR.com educational webcasts, live events and award-winning virtual events.
About HR.com:
HR.com is in business to help build great companies by connecting them to the knowledge and resources they need to effectively manage the people side of business. As the largest social network and online community of HR executives, HR.com provides thousands of worldwide members with easy access to shared knowledge on best practices, trends, and industry news in order to help them develop their most important asset – their people.
About The Institute for Human Resources:
The Institute is a division of HR.com that is responsible for providing top tier education, access to industry experts and practical experiences via certification and accreditation programs for industry professionals committed to developing their career and implementing best practices at their respective organizations.
For more information contact:
Debbie McGrath
CEO, HR.com
1-877-472-6648, ext. 104
dmcgrath(at)hr(dot)com
HR.com
Pamela Koller
Facilitator for the Institute for Human Resources – Integrated Talent Management
1-877 472 6648, ext. 136
pkoller(at)hr(dot)com
HR.com
###