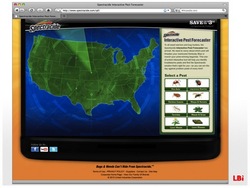 Atlanta, GA (PRWEB) February 28, 2011
LBi Atlanta, a division of the world's largest independent advertising, marketing and technology agency, won a Silver ADDY Award for its innovative work with Spectracide® pest solutions. Announced yesterday in a ceremony at Turner Field's 755 Club, the award recognizes LBi's success in the Interactive Media – Microsite Division.
"We are honored to be chosen for this prestigious award," said Brooke Buerkle, Account Manager at LBi Atlanta. "We look forward to continuing our relationship with Spectracide to create innovative marketing solutions for their products."
The ADDYs—the advertising industry's largest and most representative competition for creative excellence—acknowledged LBi for its creation of the Spectracide Interactive Pest Finder (IPF). Launched in June 2010, the IPF (http://www.spectracide.com/IPF) is an interactive Flash application that allows users to identify a specific pest (insect or plant) and instantly receive information about the appropriate Spectracide solution and where to find it.
Spearheaded by LBi Atlanta Group Creative Director Matt Daly, the IPF features an animated U.S. map that clearly shows annual pest lifecycles relevant to a user's location. It provides pest information and features videos demonstrating how Spectracide products should be used for maximum effectiveness.
"LBi Atlanta has done an excellent job … building the foundation for what will be an ongoing interactive space to educate consumers on how Spectracide products solve consumers' lawn and garden problems," said Ryan Andersen, Spectracide Associate Brand Manager.
For further information please contact:
Chelsea Marcinko Webster, Account Coordinator - LBi
+1 404 267 7600, Chelsea(dot)Webster(at)lbi(dot)com
About LBi
LBi is the world's largest independent advertising, marketing and technology agency, blending insight, creativity and expertise to solve business problems. The largest genuinely full service agency of its kind, LBi provides the full range of capabilities, including digital strategy, branded content, service design, media, CRM, technology, managed hosting and support services.
LBi recently merged with Bigmouthmedia, the largest search engine marketing specialist in Europe. Combining LBi's best in class services with Bigmouthmedia's leading search engine marketing, LBi is now positioned to meet the growing customer demand for one agency to provide all of these services across geographies. The company now employs over 1,800 professionals located primarily in the major European, American and Asian business centers such as Amsterdam, Atlanta, Berlin, Brussels, London, Milan, Mumbai, New York, Paris and Stockholm. LBi is listed on NYSE Euronext in Amsterdam (symbol: LBI). http://www.lbi.com/us
About Spectracide®
Spectracide, a leader in outdoor insect control, is a branch of Spectrum Brands, a global consumer products company. Headquartered in Madison, Wisconsin, Spectrum Brands' products are sold by the world's top 25 retailers and are available in more than 1 million stores in 120 countries around the world. http://www.spectracide.com/IPF
About the ADDY® Awards
The ADDY Awards is the advertising industry's largest and most representative competition for creative excellence. Conducted annually by the American Advertising Federation, it attracts more than 50,000 entries each year in local competitions. http://www.atlantaaddys.org
###