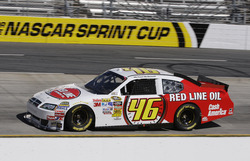 Team owner Dusty Whitney and his group are amazing people who worked extremely hard to get this far. We sponsored JJ for many years Sprint Car and Midget racing, so we all hope for the best result possible in 'The Great American Race.'
Benicia, CA (PRWEB) February 18, 2011
Red Line Synthetic Oil Corp. will be the primary sponsor of Whitney Motorsports' JJ Yeley-driven Chevy Impala at the Daytona 500, the largest NASCAR race of the year, on February 20, 2010. This one-race primary agreement expands Red Line's associate sponsorship with the Whitney and the team.
"JJ did an amazing job to race his way into the Daytona 500," said Cameron Evans, Red Line Director of Sales and Marketing. "The team has a very small budget and is looking for more help, so we were thrilled to support on this level. Team owner Dusty Whitney, crew chief Tony Furr, and his group are amazing people who worked extremely hard to get this far. We sponsored JJ for many years Sprint Car and Midget racing, so we all hope for the best result possible in 'The Great American Race."
Whitney Motorsports and Red Line Oil teamed up multiple races on the NASCAR Sprint Cup Series last year. For 2011, this partnership will include associate sponsorship at every race in the series, as well as more races at a primary level later in the year. Associate sponsors for Daytona include Darlington Raceway, Espar Heating Systems, and International Truck.
JJ Yeley has six previous Sprint Cup Series starts at Daytona International Speedway, including three previous starts in the Daytona 500. His best finish at Daytona was 12th in the 2007 Daytona 500. His average starting position is 25.7 and his average finish is also 25.7. He has completed 1041 of a possible 1091 laps (95.4%).
Red Line Synthetic Oil Corp. manufactures more than 100 quality products for the automotive, racing, motorcycle, marine and industrial markets. Its complete line includes a wide variety of motor oils, gear oils, additives, and greases. For more information, please visit http://www.RedLineOil.com or contact Red Line Synthetic Oil Corp., 6100 Egret Court, Benicia, CA 94510, (800) 624-7958.
NASCAR Sprint Cup Series TV Schedule
2/19 Practice airs live, 10:30am EST on SPEED
2/20 Race airs live, 1:00pm EST (10:00am PST) on FOX
###