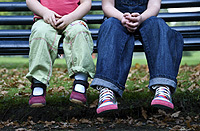 In a time of economic hardship, Recycled Treasures LLC realizes that charitable organizations donations have been negatively impacted and wanted to give back in a big way.
Chesterfield, MO (PRWEB) February 22, 2011
Between March 19-20, 2011 families will flock to a large gymnasium overflowing with bargains you won't find at any mall or retail store on upscale kids/teen clothing, shoes, toys, baby equipment, nursery/juvenile furniture and more. This kid's consignment sale is expanding to host its first Dollar Dash Sale day on March 21, 2011 from 10:00am-12:00pm. During this special portion of the sale event, items not sold earlier that weekend will be drastically reduced in price with 90% of the proceeds being donated to Missouri Special Olympics and 10% to Gateway Academy who graciously donated their space to hold this portion of the sale. Any items left unsold at the conclusion of the Dollar Dash sale will be donated to Society of St. Vincent DePaul St. Louis. In a time of economic hardship, Recycled Treasures LLC realizes that charitable organizations donations have been negatively impacted and wanted to give back in a big way. This portion of this seasonal kids sale will also allow families who are struggling to pay their bills the ability to purchase items that would normally be out of their budget for just pennies on the dollar!
The sale in March is the fifth in a series of successful events for Recycled Treasures LLC. The Spring/Summer sale event will be held at Gateway Academy located at 17815 Wild Horse Creek Road, Chesterfield, MO 63005. This group of moms began hosting sales in West St. Charles County in 2009 and recently expanded to West St. Louis County (Chesterfield) nearly doubling their consignor and shopper base immediately.
Potential consignors should keep in mine that this is not a garage sale, so items need to be in gently used to new condition but there is a potential to earn up to 75% of their selling price. Shoppers can expect to not only save big on the dollar dash sale day but also through out the entire sale weekend. Most shoppers will save anywhere from 50%-90% off the original retail price of items they purchase. With prices this low it is no surprise that moms travel from as far away as Hannibal, Missouri and Belleville, Illinois to shop and consign. Families line up prior to sale doors opening with everyone eager for their chance to shop and get those items they want or need before they sell.
The vendor portion of this event features local small businesses offering unique/boutique items. Many items sold in this feature shopping area are one of a kind and all are family friendly. Vendors are handpicked by the owners of Recycled Treasures LLC and none sell the same thing offering a large variety of new items to shop. Another recently added feature is new and expectant mom presale hours offering these pre-registered moms special shopping hours. This allows these new /expectant moms the ability to shop for large/high ticket items such as nursery furniture, strollers, high chairs, toys and maternity wear saving them thousands of dollars that would normally be spent if these items were to be purchased at a retail store.
Sales events focus on the family and kids are welcome to shop with their parents. The Spring /Summer sale event will be offering Giveaway bags to the first 500 shoppers through the sale doors filled with discount coupons, free family friendly items and promotional items and information from local businesses in the area. In addition, there will be kid friendly activities and a visit or two from the Easter Bunny during the sale weekend. Recycled Treasures LLC is much more than a seasonal consignment sale it is a family friendly shopping event families will not want to miss.
Recycled Treasures LLC founded in 2009, is a seasonal sale held 2-3 times per year in Missouri. It offers the public the opportunity to buy and sell new and gently used boutique and brand name clothing , toys, furniture and accessories for babies, kids, teens and expectant mothers. Recycled Treasures LLC is the creation of 4 Missouri moms and good friends who have shopped and sold consignment for years to meet the needs of their own families: Wendy Skinner, Robyn Fuchs, Ashley Gittemeier and Charmaign Gittemeier. For more information, please visit http://www.recycledkidstreasures.com
###