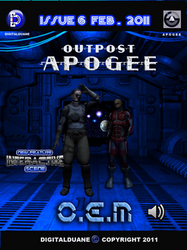 Gampeplay transports the digital graphic novel genre to the next level of vicarious
Pasadena, CA (PRWEB) February 21, 2011
Independent publisher Digital Duane released Apogee, a multimedia, 3d illustrated and animated graphic novel, in the first wave of apps designed for the Apple iPad in April 2010. The iPad's larger display screen and brilliant graphics proved to be a perfect platform for digital graphic novels and comic books.
"Digital can be a remote and objective technology", says Duane Amos, Apogee's creator and publisher, "it almost takes on a life of its own." Multimedia and animation enhance the storyline and accent dramatic points in the innovative groundbreaking genre. Integrating the reader's input into the novel literally thickens the plot. The tactical aspects of gameplay empowers the reader to effect the direction of a scene or the ending of an episode. "Gameplay transports the digital graphic novel genre to the next level of vicarious", quips Amos.
Recent headlines reveal that hundreds of bookstores and analog newspaper publishers are giving way to electronic books, magazines and digital readers. Well over ten million tablets have already been sold since the spring of 2010. DigitalDuane is committed to providing innovative, cutting edge content to current and immerging literary technologies.
###