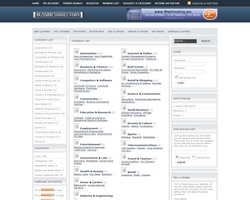 BusinessDirectory.bz, a new online business directory, is designed to put people in touch with a variety of companies all over the world.
Bradenton, FL (PRWEB) February 21, 2011
BusinessDirectory.bz has launched a new online business directory service that is connecting consumers with companies all over the world. And, because the directory's owners are committed to making the site a truly global experience, BusinessDirectory.bz offers information in 12 different languages.
The online business directory has listings in the following main categories:

Automotive
Business and Finance
Computers and Software
Construction
Education and Research
Employment
Entertainment
Government and Law
Health and Beauty
Home and Garden
Industry and Engineering
Internet and Online
Real estate
Retail and Shopping
Science and Environment
Small Business
Society and Culture
Sports
Telecommunications
Travel and tourism
World
Each of these categories has been divided into hundreds of more specific sub-categories, because the owners of BusinessDirectory.bz want to make sure that visitors can find the exact services they need, quickly.
However, BusinessDirectory.bz is also looking to expand. There are links on the site that allow visitors to suggest new categories. Each submission will be reviewed by one of the site's editors.
For companies interested in getting listed, BusinessDirectory.bz offers a variety of listing types, so that virtually any business can afford to be included. A Basic Listing on the website, which covers a one-time inclusion fee, is $9.95. Premium and Sponsored Listings are also available at discounted rates. BusinessDirectory.bz handles all of its payment through PayPal, one of the world's most trusted online payment processors.
Each listing on BusinessDirectory.bz comes with a brief description of the company and a link to the company's website. Plus, each listing also gives the company's Google Page Rank, so that viewers can see how the world's largest search engine views the company's authority.
To submit a website for inclusion in the directory, business owners can fill out a form on BusinessDirectory.bz. Each potential listing will be reviewed before it is placed on the site.
While many of the companies included on BusinessDirectory.bz are small businesses, the site is not just a small business directory. In fact, some of the top companies in the U.S., the U.K., and India are included on the site.
In an effort to help the website grow, BusinessDirectory.bz also features a mailing list that will let members know whenever new businesses and opportunities that interest them become available.
For more information, log onto http://www.BusinessDirectory.bz.
# # #