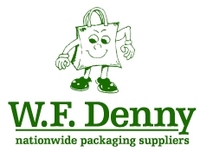 The new WF Denny website is the ultimate tool for packaging buyers
(PRWEB) February 21, 2011
WF Denny has launched an upgraded website featuring a fresh design, improved navigation and many other functional enhancements. These improvements will help make the WF Denny website a more comprehensive and user-friendly online resource for businesses and individuals seeking both industrial and retail packaging. The company has recently extended and improved its range of pre-packed single serve cakes and flapjacks for sandwich bar and coffee shop market.
"The new WF Denny website is the ultimate tool for packaging buyers," WF Denny's website manager, Jon Robinson said. "In addition to providing a wealth of packaging options and resources, we're also encouraging visitors to give us their feedback about the site. We've listened to our customers over the years and incorporated many enhancements based directly on their feedback. As always, we are constantly looking for ways to improve our service."
John Haken, WF Denny's Director, said the launch of the new site exemplifies WF Denny's efforts to further engage with its customers. " We strive to provide value and improved customer satisfaction at all times, and we are very excited with our new website."
In addition to providing better services to existing customers, the new website will also play an important role in spearheading our drive for an increasing market share in the packaging industry . "WF Denny is a unique business in its ability to reflect the true state of the economy. The performance of retail businesses of all kinds is reflected in how much packaging they require, and we have noticed a much improved demand over the last 6 months.
Visit the new and improved WF Denny website at http://www.wfdenny.co.uk
WF Denny is one of the UK's leading specialists in eco friendly and Biodegradable Food Packaging Established in 1919, WF Denny has supplied biodegradable packaging to organisations throughout Europe. Guided by a strong customer service ethic and a motivation to provided improved products, WF Denny will continue to take advantage of the increased distribution capabilities the internet provides.
# # #