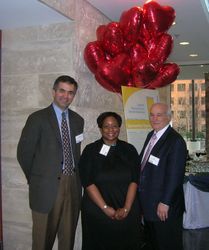 Fairfax, VA (PRWEB) February 21, 2011
First Virginia Community Bank paired up with Commonwealth Real Estate Information Services to become corporate sponsors for FACETS' upcoming Benefit Breakfast on May 10.
FACETS is a non-profit organization that opens doors for people in need in Fairfax County by providing emergency shelter, food and medical supplies; finding families permanent, sustainable housing; and offering educational and life skills training to help them prevent and end homelessness and break the cycle of poverty.
First Virginia Community Bank President L. Burwell Gunn and Benjamin Hankins, president and managing director of Commonwealth Real Estate Information Services, presented a $1000 check to FACETS Executive Director Amanda Andere at a reception hosted by the bank on Wednesday, February 16. About 50 business and community leaders attended the reception. Among them was Sharon Bulova, chairman of the Fairfax County Board of Supervisors.
The reception at First Virginia Community Bank capped off day dedicated to providing information on homelessness in Fairfax County. "We have adopted a goal to end homelessness in ten years," Bulova said. "We are have eight years running." She referenced a board meeting and a Forum on Homelessness held earlier that day. Since the board of supervisors established the goal in 2007, the number of persons who are homeless in Fairfax County has decreased by 14 percent. She thanked the two corporate sponsors for their support and acknowledged the work of FACETS in the community.
Dean Klein, director of the Fairfax Office to Prevent and End Homelessness, also attended the reception. He referenced a survey counting the number of homeless in the Fairfax-Falls Church community. According to this point-in-time count on January 27, 2010, there were 1,544 homeless people in the community. Of that total, 652 were single individuals and 892 were people in families. More than 60 percent of the adults in homeless families were employed.
Michelle Haley, a vice president at First Virginia Community Bank, serves on the FACETS Board and organized the event. "It is appalling to find there are people without homes in a county that is one of the most affluent in the nation," she said. "I am proud to represent the bank in supporting FACETS' programs. Last year, through volunteer efforts and corporate sponsorships, FACETS was able to help more than 5,000 people who were suffering from homelessness in Fairfax County. That represented a 60 percent increase in services. We are seeking community support to continue this increase."
Chairman David Pijor has published his commitment to community service on the bank's Website: "First Virginia Community Bank is committed to giving back to the communities where we do business to ensure a brighter future for everyone, The feeling of belonging extends well beyond the walls of our bank. It spreads out into the communities that we serve. Being a good corporate citizen means actively playing a role in the community; this is why many of our managers, officers and Board Members are involved in local philanthropic and civic organizations."
About First Virginia Community Bank
First Virginia Community Bank is a state charted bank, headquartered in Fairfax, Virginia. The bank's corporate offices and main office branch are located at 11325 Random Hills Road, Fairfax, Virginia 22030. In early 2007, the Bank raised $23 million in capital and completed one of the fastest new bank openings in just 11 months. The Bank's second office, located at 7900 Sudley Road, Manassas, Virginia 20109, opened in July 2008. For more information, visit the bank's website.
# # #