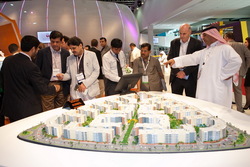 There is a clear need for the provision of easily accessible and straight forward information as the shape of the market continues to transform and diversify.
Abu Dhabi, United Arab Emirates (PRWEB) February 22, 2011
As the property and real estate market begins to recover, understanding the real estate sector and being able to identify and recommend strong investment opportunities is paramount. Yet more than 25 percent of property professionals in the Middle East, who took part in a survey conducted by Cityscape Abu Dhabi, admitted that their current understanding of the Abu Dhabi market was 'poor.'
The admission by so many that their awareness of their industry is lacking, is a further sign of the rebuilding that needs to be done in order to ensure that markets are able to continue to grow and stabilise as projected over the next few years. The survey was conducted as part of the event's research into how property investors get access to the information they need in order to invest wisely and valuably, with a mere 14 percent claiming to have 'excellent' knowledge of the industry.
Cityscape Abu Dhabi, taking place from 17-20 April, also found that over a third of respondents also claimed that their access to information on the industry was poor, highlighting a requirement for more transparent processes and a steady stream of up to date information.
Chris Speller, group director of Cityscape Abu Dhabi, said: "There is a clear need for the provision of easily accessible and straight forward information as the shape of the market continues to transform and diversify. It is encouraging, however, to see that exhibitions and conferences are regarded by over 40 percent of our survey participants as such an effective way of finding out information."
Exhibitions and conferences were second only to online and print media as the most useful tool for getting hold of information about the industry, with financial advisors and recommendations from colleagues or friends ranking much lower down the scale. With 182,000 residential units currently in the Abu Dhabi market alone and a further 69,000 expected by 2013, as well as a significant demand in the residential and office sectors, there is a number of opportunities to be maximised on now.
Speller added: "We anticipate that this year's Cityscape Abu Dhabi will help contribute to a growing understanding of the market and the outlook for the coming years. We have brought together a variety of experts who will be part of discussions and presentations across a number of current and future trending topics, as well as a number of networking and social events to help visitors, exhibitors and delegates to share knowledge and experience."
The event comes at an opportune time, with a number of education enhancing elements built in to the four-day exhibition. The Middle East Real Estate Summit will run concurrently to the exhibition and provide a forum for delegates to hear from leading experts on a number of topics, including Peter Wilding, the executive director for Mubadala Real Estate & Hospitality, Varun Sood, CEO of home finance at Tamweel, Faisal Khan, principal of Abraaj Capital and Sundar Parthasarathy, executive vice president & head of consumer at Abu Dhabi Commercial Bank, as well as the chance to take part in discussions and two brand new interactive workshops.
The investor round tables are also expected to be a popular event this year, these exclusive meetings bring together leading institutional investors and developers to discuss hot topics and partnership opportunities, as well as share strategy. Topics will include 'Assessing Abu Dhabi's most profitable investment opportunities,' 'Outlining future projects and opportunities within the retail sector in MENA,' and 'Identifying untapped opportunities in the hospitality and tourism sector in the Middle East. '
In addition to the formal structure of the daily activities, Cityscape Abu Dhabi also organises a number of social gatherings, including the exhibitor cocktail party and the Awards for Real Estate in the Middle East and North Africa, which recognises those who have made a commitment to excellence over the past year and have grown to become a much sought after accolade within the industry. These events provide an excellent opportunity for Cityscape participants to network with peers and contacts in a more relaxed environment, helping to form the long lasting relationships that help to facilitate long lasting business.
With 2011 being tipped as a positive year for the region's real estate industry, it is vital that investors have access to market information in a simple and effective format, in order to make the right decisions now, and in the coming years. Cityscape Abu Dhabi will be ensuring that for those who do not have the time to spend on daily in-depth research, the event can help to fast track them to the information they require.
Cityscape Abu Dhabi will take place from 17-20 April at Abu Dhabi National Exhibition Centre Headline sponsor of Cityscape Abu Dhabi 2011 is Mubadala Real Estate & Hospitality Holding Company LLC and platinum sponsors are Al Qudra Real Estate LLC, Aabar Properties.
Ends
Notes to Editor
Cityscape Abu Dhabi 2011, now moving into its 5th year, provides THE best arena for the real estate industry to showcase projects and services, network with key investors and developers from around the world and participate in content driven discussions with industry leaders. It brings together real estate investors, developers, consultants, architects and all other senior-level real estate professionals from the region and abroad to network, create joint venture partnerships and discuss the opportunities and challenges the current and future market will bring. For more information, http://www.cityscapeabudhabi.com
Cityscape Abu Dhabi is organized by Cityscape, a division of IIR Middle East, and encompasses a series of exhibitions and conferences in Dubai, Jeddah, Riyadh, Asia, Egypt, and Levant.
###