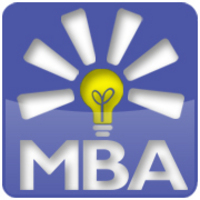 "...the first iPhone application to combine the practical value of management tools with the highly successful case study method pioneered at Harvard Business School."
Bethesda, MD (PRWEB) February 22, 2011
iMBA LLC today introduced the first iPhone application to combine the practical value of management tools with the highly successful case study method pioneered at Harvard Business School. iMBA Volume One: Strategy & Marketing was created specifically for the iPhone and introduces users to the world's most powerful management concepts.
"We wanted to expose users to concepts that were previously the domain of professional management consultancies and costly MBA programs," says Douglas Rohde, chief executive officer for iMBA LLC. "This application really is unlike anything else on the market today. For only $1.99, we lay out complex management concepts in everyday terms. iMBA has 50 concepts taken from usage surveys of actual Fortune 500 managers and includes visual aids to help put the concepts into perspective. We don't just define the concept; we explain how to apply it in real world situations using the case study method. This app will make you a better planner."
The application opens to a main menu featuring four options: an index feature allowing users to browse tool names and descriptive tags alphabetically; a favorites feature giving quick access to preferred tools; a search feature allowing users to search for specific tools and tags; and a 'tool of the day' feature that randomly selects and presents a new tool each day. Inside the actual entries there is a background on the tool (i.e. who was responsible for it, when it debuted, and its definition); a section describing how to apply it correctly; colorful diagrams giving the tool greater context (for 20 out of the 50 total tools); a case study background describing a fictional company and characters (i.e. Suzy Strawberry of the Dreamy Creamy Ice Cream Company); and a section describing how these characters use the particular tool to overcome challenges and create value for their organizations.
"This app explains difficult concepts in language with which everyone can feel comfortable," says Daniel Lambert, Harvard Business School Class of 2011 and owner of Blatant Design (http://www.blatantdesign.com), which developed the iPhone application for iMBA LLC. "Within minutes after downloading the app, users can speak authoritatively on a number of different topics. The app was designed to ensure that users get the information they need quickly and easily."
Despite the suggestive name, iMBA is more than just a tool for business professionals in large companies. It is just as helpful for non-profits and small business owners as it is for Fortune 500 executives. "Helping our users become better planners is what we're aiming for. This app is as relevant to the interests of volleyball coaches as it is to first-time managers and U.S. Air Force fighter pilots," says Elizabeth Reynolds, iMBA LLC co-owner. "In this time of economic rebound, we feel it is more important than ever to equip people with the tools they need to succeed. With this product such a low price, we're hoping to improve people's lives significantly."
So what are the three reasons why you should take a closer look at iMBA? First, the app includes most, if not all, of the concepts that lie at the heart of a graduate-level business education. It clearly communicates how to apply them using the time-tested case study method. Second, the language in the app is accessible and speaks to a broad audience with special emphasis on helping users become better planners. Third, its low price makes it accessible to everyone. While the app does not pretend to be a substitute for formal education, it does promise to expose users to many of the same concepts that they can expect to learn in the world's top business schools.
About IMBA LLC
iMBA is an innovative leader in the creation of premium educational smartphone applications. With the help of its partners, iMBA LLC brings state-of-the-art technology to its products. For more information, visit http://www.imbaonline.com or write to info(at)imbaonline(dot)com.
# # #