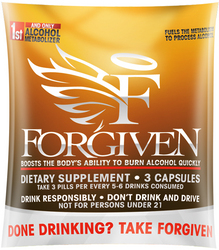 Forgiven is the first and only alcohol burner available to the consumer seeking a healthy solution to sober quickly when the night is over
Las Vegas, NV (PRWEB) February 21, 2011
Forgiven Bottling Group LLC today announced the launch of Forgiven – http://www.takeforgiven.com – the first and only alcohol metabolizer. The new all-natural, chemical-free hangover remedy demonstrates proven results in multiple scientific studies. This novel alcohol burner provides nutrients, minerals, and organic acids which are utilized by the body to rapidly breakdown the by-products of alcohol consumption. Forgiven Alcohol Burner is doctor approved and no other product presently on the market contains this metabolizer's original formula or numerous benefits.
"Forgiven is the first and only alcohol burner available to the consumer seeking a healthy solution to sober quickly when the night is over," said Chas Aday, CEO of Forgiven Bottling Group LLC. "Unlike other hangover cures, Forgiven increases the body's ability to process alcohol, literally neutralizing and inhibiting the absorption of toxins associated with drinking. Our alcohol burner helps to increase mental clarity and alertness while reducing nausea and headaches associated with hangovers," concluded Aday.
Forgiven is easy to use - simply take one packet when done drinking. The alcohol metabolizer contains 150 mg of Vitamin B1 (Thiamine mononitrate), and a proprietary blend of organic acids, L-Cysteine, L-Glutamine, and extract of the plant Rhodiola Rosea. Forgiven ensures the Vitamin B1 that is depleted by alcohol consumption is replaced, thereby avoiding a hangover headache. The organic acids assist with the rapid reversal of dehydration and neutralize toxins, as well as absorption of toxins, in the digestive system. Both L-Cysteine and L-Glutamine keep the liver functioning at optimal levels, thus reducing the severe headaches, nausea and vomiting often caused by hangovers. Rhodiola Rosea stimulates the nervous system, improves depression, sleep and fatigue while alleviating some adverse effects caused by alcohol consumption.
One packet of Forgiven is $3.99 (MSRP). Media Requests, retailers, and distributors interested in distribution information can call Michael Bedrick, Vice President of Sales, at 702-354-5277 or visit http://www.takeforgiven.com for more information.
# # #