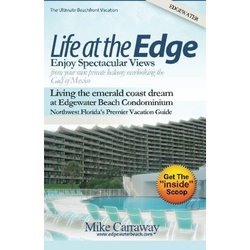 "The only thing missing is YOU" -Mike Carraway
Destin, FL (PRWEB) February 22, 2011
Valentine's Day this year saw the publication of a new travel guide for the Destin area, titled Life at the Edge. Innocent sounding topic but there are those who say the author, Mike Carraway of Birmingham, AL, is exploiting the worst oil disaster to ever touch the Gulf Coast.
The story starts back this past May, at the height of the oil spill. Due to reports and speculations of oil washing up on the shores around the Gulf, travelers were canceling flights and changing destinations away from the Gulf in droves. A long-time visitor to the Destin area, Mike was saddened not only by what this was doing to the area's economy but also the fact that so many people were missing the opportunity to visit what he calls "the most beautiful beach in the world".
Mike was determined to do something about it and began making video reports of the beach and water conditions in Destin. His first video went up on YouTube on May 20. He showed the beach and beachgoers enjoying the warm waters and there was only one thing missing. Despite mainstream news sources claiming that tarballs were washing up in Destin, there was no sign of oil. The beach and water were as pristine as ever.
However, despite the beauty and obvious absence of oil, Mike was accused by several of lying and scheming just to make money. One comment on his video said, "...business is suffering so you're just trying to fool the tourists in to visiting?" Another person berated Mike, posting that people who "make money and make light of eco disasters" would see karma coming to get even. Considering that Mike was not working with Edgewater Beach Condominiums at that time, it's difficult to give credence to such accusations.
Life at the Edge describes the entire Fort Walton/Destin area with chapters covering the best dining establishments, things to do with families, area attractions and the popular festivals that are held in the region. Mike also describes the resort that he now works with closely as a marketing consultant, a position that came about as a result of the publicity that Mike received while making and posting Destin video updates throughout the summer.
You can find Life at the Edge at Amazon.com, Barnes & Noble, Borders and other fine book retailers. There will be a book signing on Feb. 26 at the resort during their famous Mardi Gras party that they throw every year for the snowbirds who come down to escape winter's clutches. 100 lucky guests will receive a complementary copy, signed in front of them by the author. In the meantime, for those of you who can't attend, pick up a copy of Life at the Edge and you decide – did Mike Carraway exploit the oil spill disaster or did he do a service for the area he's long been in love with?
About Mike Carraway:
Mike Carraway is a marketing consultant specializing helping businesses build their brands and name recognition. He has worked with numerous companies of varying sizes, helping them create and follow a comprehensive multi-pronged marketing plan. One of Mike's current clients is the Edgewater Beach Condominium Resort in Destin, Florida – an area of the state that Mike has long loved.
About Edgewater Beach Condominiums:
Edgewater Beach Condominiums has been operating the resort in Destin, Florida for a quarter of a century. They have worked hard to take their place as a premiere destination spot and continue to offer their guests exemplary service, luxurious amenities and exciting activities. The new Edgewater Elite free membership is their latest way to bring the very best to their guests.
Contact Info:
Edgewater Beach Condominium
291 Scenic Gulf Drive
Miramar Beach, Florida 32550
(800) 822-4929
http://www.edgewaterbeach.com/
###