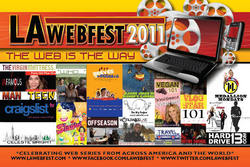 "The Marseille Webfest proves what I've been saying— that the web series is a global phenomena," said LAWEBFEST Founder and Executive Director Michael Ajakwe Jr. "Jean Michel Albert is the perfect choice to oversee Europe's first all-web series festival."
Los Angeles, CA (PRWEB) February 22, 2011
America's first all-web series festival has partnered with Europe's first all-web series festival to offer six lucky producers at LAWEBFEST 2011-- being held at the Stage 52 Theatre in Los Angeles, March 25-27-- the opportunity to visit the south of France for four days and have their creations screened before an international audience at the Marseille Webfest, October 14-16 in Marseille, France.
"The web series is a global phenomena and our partnership with Europe's first web series festival is just the beginning," said LAWEBFEST Founder and Executive Director Michael Ajakwe Jr. "This year, we're thrilled that we can offer a handful of LAWEBFEST entries an opportunity to expose their wonderful shows to a European audience and network with other web series creators from around the world. Building a sense of community is one of our main goals and we have a great partner in producer Jean-Michel Albert."
Marseille Webfest is being spear-headed by the Paris and Marseille-based tv, film and web series producer. Last year, when the city of Marseille expressed an interest in hosting a web series festival Albert-- who was chosen to lead those efforts-- reached across the Atlantic ocean to Ajakwe.
"We looked all over the world for a web series festival and found just one-- LAWEBFEST. Mike did not view us as a threat. Instead, he welcomed us and took me under his wing," Albert recalled, crediting LAWEBFEST with serving as a role model for organizing Marseille's upcoming web series festival. "The city of Marseille and I look forward to launching our festival in October with our good friend Michael Ajakwe by our side," the veteran French producer added.
2011 Festival Honorees Named:
Albert will receive the LAWEBFEST "Envisioneer Award" for his efforts at organizing the first all-web series festival in Europe. "I am humbled and honored to receive this award from another pioneer in the web series industry," Albert declared.
Former California Superior Court Judge Kevin Ross, now an online columnist and host of the nationally-syndicated TV show "America's Court with Judge Ross", will receive the "Social Media Award". This is in recognition for his work to increase public awareness about important digital issues like Net Neutrality and the recent Comcast-NBC Universal merger and its effect on media diversity using his Internet marketing and entertainment company, 3BAAS Media. "Receiving this honor affirms what I believe to be absolutely true – in order to achieve success as each of us individually defines it, you must do what you love," Ross said. "I'm fortunate that my passion for new media has lead to the creation of a business and me hosting my own television court show."
Other festival honorees:
"Maverick Award": Scott Rice-- The Texas-based writer-director has produced national commercials and written various feature film assignments. His web series "Script Cops" is an award-winning parody of the Fox reality series "Cops" that drew the attention of Sony Digital after it received over a million hits.
"Groundbreaker Award": Hayden Black -- The innovative English online media producer has garnered praise and awards for his web-based shows like "Abigail's Teen Diary" that have received more than five million views. Black's "Goodnight, Burbank" is the first web series adapted into a half-hour comedy made specifically for the web.
Background:
LAWEBFEST debuted in March 2010 as the world's first festival dedicated solely to recognizing the best in original shows created for the Internet. Fifty web series were screened, with 28 earning awards in 22 different categories.
This year, festival organizers have seen a dramatic rise in entries and expect the number of screenings to double. Thus far, 50 web series have been selected for the three-day festival from nearly 200 submissions. These entries hail from 19 different states and 8 foreign countries.
"We will screen as many quality web series as we can. We don't care where they're from or who made them as long as we think they're good," Ajakwe said, adding that the number of international entries jumped from one in 2010 to eight this year, from countries like Canada, Australia, Italy, France, England, New Zealand and India.
The deadline to submit web series to LAWEBFST 2011 is Friday, Feb. 25. Final notifications will be made by March 1. All screenings and workshops will take place at Stage 52 Theatre (http://www.Stage52la.com), located in the Lower Miracle Mile district. (Please see http://www.LAWEBFEST.com for a complete list of festival entries.)
About LAWEBFEST:
Created in 2010 by veteran Emmy-winning tv producer and NAACP Award-winning playwright Michael Ajakwe, Jr., the Los Angeles Web Series Festival is the industry (and world's) first all-web series festival honoring serialized shows created specifically for the Internet. The goal of the festival is celebrate web shows while bringing creators, producers, directors, actors and technicians together under one roof, in community, to network and exchange information. Workshops and panels covering various aspects of working in this dynamic new medium are also offered during the three-day event. For more information, visit http://www.LAWEBFEST.com or http://www.Facebook.com/LAWEBFEST.
About the Stage 52 Theater:
Located at 5299 W. Washington Boulevard in the Lower-Miracle Mile section of Los Angeles (between LaBrea & Fairfax), this intimate venue is located in a safe, working-class neighborhood with ample, free street parking. For more information, contact Artistic Director Thomas Duckett at 323-549-9026.
LAWEBFEST Media Contact
Luke Michaels
818-907-0243
LAWEBFEST(at)gmail(dot)com
# # #