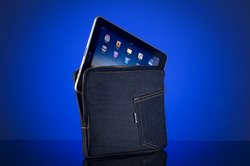 We have received a lot of enthusiasm about our cases and are looking forward to funding a new project with the help of Kickstarter
Novato, CA (PRWEB) February 21, 2011
XBLUEX, a Northern California based mobile device case designer, announced today February 21st the launch of their first Kickstarter campaign to fund a new line of denim iPad cases. If funding goals are reached the denim cases named indigo will be available in their regular line of high quality iPad and mobile device cases.
"We are excited to launch the campaign for our indigo line on Kickstarter," stated Alp Simsir, founder of XBLUEX. "We have received a lot of enthusiasm about our cases and are looking forward to funding a new project with the help of Kickstarter. We know our customers will love the design of this new denim iPad case and the quality of the product that we offer." The company plans to unveil a kindle version in the near future and has many prototypes in the works. Simsir adds "XBLUEX is a small company with big ideas, our customers can expect unbeatable style and unlimited design ideas at unbeatable prices."
The potential release of their denim line also coincides with the launch of their online store at http://www.xbluex.com. Follow them on Facebook and Twitter for more announcements of new products or promotions.
The Kickstarter project can be found here: https://www.kickstarter.com/projects/627852536/denim-case-for-ipad
About XBLUEX
Founded by Alp Simsir and Bogac Simsir in 2010, XBLUEX began with the goal to fill a void in the mobile device case market. The siblings vowed to create an affordable product with high quality materials. The company is headquartered in the San Francisco Bay Area.
# # #