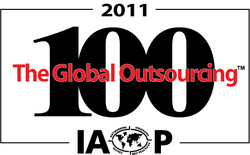 Reading, UK (PRWeb UK) February 21, 2011
Ceridian Corporation, a leading provider of HR and Payroll services, announced today the International Association of Outsourcing Professionals (IAOP) named Ceridian to the prestigious 2011 Global Outsourcing 100 list. Ceridian's appearance on the list is the sixth consecutive year the company has been selected for this recognition.
"Ceridian is honoured to be identified by the IAOP as one of the world's top HR outsourcing companies," commented Bart Valdez, Ceridian executive vice president and chief commercial officer. "We pride ourselves on creating some of the industry's finest human resource management solutions. Being included on the list for the sixth consecutive year demonstrates our commitment to the business, our customers and our solutions."
"The Global Outsourcing 100 and The World's Best Outsourcing Advisors rankings help companies make better-informed purchasing decisions with confidence because these companies have gone through a rigorous process that has put their credentials through objective scrutiny," said Deborah Hamill, senior managing director, Global Membership of IAOP
The Global Outsourcing 100 and its sub-lists are essential references for companies seeking new and expanded relationships with the best companies in the industry. The lists include companies from around the world that provide the full spectrum of outsourcing services — not just information technology and business process outsourcing, but also facility services, real estate and capital asset management, manufacturing and logistics. They include not only today's leaders, but tomorrow's rising stars.
The 2011 Global Outsourcing 100 and The World's Best Outsourcing Advisors recognizes the world's best outsourcing service providers and advisors. These rankings are based on applications received and evaluated by an independent judging panel organized by IAOP.
About IAOP
The International Association of Outsourcing Professionals® (IAOP®) is the global, standard-setting organization and advocate for the outsourcing profession. With more than 110,000 members and affiliates worldwide, IAOP helps companies increase their outsourcing success rate, improve their outsourcing ROI, and expand the opportunities for outsourcing across their businesses. To learn more, visit http://www.iaop.org.
About Ceridian
Ceridian is a business services company that helps its customers maximise the power of their people, lower their costs and focus on what they do best. Globally, the company serves more than 25 million employees with a range of HR, payroll, Employee Assistance Programmes and funds transfer services, making it one of the few providers delivering services both locally and internationally.
In the UK, Ceridian serves one in eight people employed in the private sector and delivers multinational services in over 50 countries. At the heart of its winning approach is a unique combination of best of breed technology, customer service and HR expertise, designed to enable HR to make a real commercial impact. Ceridian helps UK companies to increase the value of their human capital, lower their costs and focus on what they do best.
For more information visit http://www.ceridian.co.uk.
For press enquiries contact Gareth Cartman at Ceridian on 0118 922 3638 or email gareth(dot)cartman(at)ceridian(dot)com
# # #