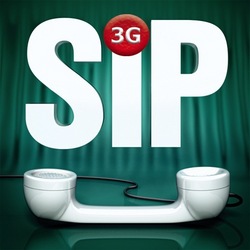 Acrobits will soon expand their reputation of being the premier developer for iOS SIP Clients to being the premier developer of SIP Clients for all mobile platforms
Prague, Czech Republic (PRWEB) February 22, 2011
Acrobits, the leading developer of SIP Clients for the iPhone, released the first major update to their new SIP Client for Android, Acrobits Softphone. While there are many SIP Clients already available on Android, most have not had the reliability or ease of use that users need. With Acrobits Softphone for Android, Acrobits has brought the reliability and intuitive interface of their iOS Clients to Android, providing Android users with the same quality product that iPhone users have come to expect from Acrobits.
Though already packed with features, Acrobits still has many improvements planned for the new Softphone. Read on for the already impressive list of features.

Support for use on wifi and 3G networks
backgrounding support with status bar notification; check your email or other tasks while still available for calls on the Softphone
Native Phone integration, make calls directly from the native android phone, history or contacts
Screen lock on calls, either automatically or using the proximity sensor
GoogleVoice interface, originate and complete GoogleVoice calls all from one app (requires GoogleVoice account and SIP Account with incoming U.S. numbers)
quick import of accounts from major VoIP Providers, Gizmo5, Voipcheap, sipgate and many more
call recorder and player, seamlessly integrated into the call history
HD Wideband audio through G.722
excellent sound quality, includes the G.711 (ulaw and alaw) and GSM audio codecs. Make an in app purchase to add G.729 Annex A for great quality over 3G networks
TLS support for encrypted SIP
audio codec manipulation, enabling you to prioritize the codecs used and disable ones you don't want to use
comfortable and super-smooth user interface, fine-tuned specially for Android
easy, intuitive configuration
simultaneous registration of multiple SIP accounts, have multiple accounts registered to receive incoming calls and switch the account used for outgoing calls without leaving the keypad
Android contacts integration. Easy to call anyone in your contacts via SIP
add new contacts directly from the softphone
ability to generate DTMF tones while in call, to control various PBX features or automated systems (use audio, rfc 2833 or SIP INFO)
speakerphone support
detailed call history
configurable RTP port range
SIP Proxy support
STUN server support, automatic service discovery using DNS SRV queries
Acrobits will update the Softphone regularly, adding new features and capabilities. Though still a more basic version of Acrobits Softphone on iOS, the Android version will soon be as feature rich as the iPhone's.
With this addition and the promise of great features to come, it's likely Acrobits will soon expand their reputation of being the premier developer for iOS SIP Clients to being the premier developer of SIP Clients for all mobile platforms.
About Acrobits
Acrobits is a privately owned software development company with a focus on mobile software development. The company is based in Prague, Czech Republic and was established in November 2008. Three of its founders have been working as a team since 2003 and have developed several award-winning applications for a wide range of mobile devices. In 2008, they teamed up with a Swiss entrepreneur and pioneer of VoIP technology and together they founded Acrobits.
###