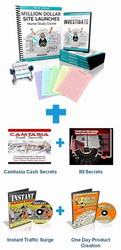 Who Can Earn $1000 Commissions? All businesses, individuals and website owners with a list of prospects and permission to email can participate and earn $1000 for every referred sale. Everybody wins!
Wilmington, DE (PRWEB) February 23, 2011
Raam Anand, creator of Site Launch System has announced his affiliate program that pays $1000 commissions for every sale referred by affiliates.
Raam Anand, a well known Internet Marketer who has launched hundreds of highly successful online businesses and the "go-to" guy for more than 400 top marketers, has announced his $1000 affiliate program for his upcoming MEGA launch. His "Site Launch System" home study course will be available from March 10th through 16th. Promotional partners are invited to join this high-paying affiliate program.
Raam is releasing 3 high-value, free videos that affiliates can giveaway to their audience. He has charged $2,995 for this in the past, so people will really appreciate affiliates hooking them up. These videos are extremely valuable and useful for all individuals and businesses owning a website.
If they opt-in and like it, they might order Raam's $2,000 home study course. If they do, then the affiliate who referred the sale will get $1,000 for every such referral.
So, affiliates are giving super high-value free stuff to their lists and making money for it. Tracking software gives all affiliates their own unique link and tracks visitors throughout the campaign. Affiliates can check stats in real-time.
All affiliates need to do is... send an email to their members and giveaway the videos for free. They don't have to sell anything. Affiliates will be provided with an email to send, embedded with a tracking code.
All affiliates, JVs, list owners and marketers interested in promoting Site Launch System and earning $1000 commission checks per sale are invited to register (free) and join here:
http://SiteLaunchSystem.com/jv/pr.html
Media Contact:
Raam Anand
Creator of Site Launch System
President, infoYOGIS Technologies, LLC
Sales(at)SiteLaunchSystem(dot)com
http://www.SiteLaunchSystem.com/jv/pr.html
105-501 Silverside Road
Wilmington DE 19809
(302) 407-0988
###