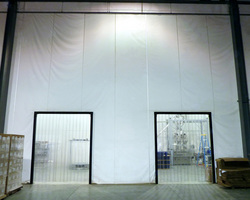 Milwaukee, WI (PRWEB) February 22, 2011
Manufacturers can now quickly and affordably isolate production lines for cleaning – while operating at peak capacity on other lines – with the new SCW Wash-down Curtain Wall from ZONEWORKS. The flexible fabric wall, which is ideal for use in food and beverage operations or any plants with harsh wash-down environments, also allows users to easily and effectively enclose areas to significantly minimize overspray when cleaning and/or reduce the potential for cross contamination during routine production processes.
The ZONEWORKS® SCW Wash-down Curtain Wall is constructed of durable and cleanable, 18-ounce white vinyl fabric and is specifically designed for use in operations where compliance with federal food regulations is paramount. To virtually eliminate the potential for bacteria to accumulate, the fabric curtain is manufactured without stitched seams. No Velcro® is used to connect the curtain wall panels that combine to form a single wall. The fabric curtain is also embedded with a proven antimicrobial agent.
All components and fasteners used to suspend the SCW Wash-down Curtain Wall from ceiling joints or roof decks are made of stainless steel. A completed wall system easily withstands routine cleaning. Additionally, it holds up to wet and harsh conditions that occur when production equipment is cleaned as part of Hazard Analysis & Critical Control Points (HACCP) best practices.
Each SCW Wash-down Curtain Wall is custom-designed to match a customer's unique application – allowing users to achieve cleanliness and production goals without the cost, permanence or space requirements of rigid walls. The stainless steel, heavy-duty track and two-wheel trolley system makes it easy to open and close the sliding wall. The flexible wash-down curtain can also be configured to form a stationary wall.
Systems can be reconfigured as the layout or environmental conditions inside the plant change. ZONEWORKS industry specialists are readily available to provide on-site design consultation and complete drawings, as well as turnkey project support and installation coordination.
About ZONEWORKS
ZONEWORKS is an industry leader in custom-designed industrial curtain wall systems and other environmental zoning products for all types of space separation and environmental containment needs in industrial facilities.
All ZONEWORKS products are designed and manufactured in the United States and meet one or more of these standards: NFPA-701, ASTM-E-84, FMVSS 302 and CFM. For more information, please call 1-800-553-4834, or visit http://www.zoneworks.com.
# # #