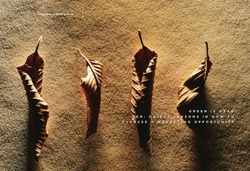 Not only do consumers expect green products and services, but they expect companies to do more, like giving consideration to the environmental impact of their production and distribution strategies
Beachwood, OH (PRWEB) February 22, 2011
Does green marketing still have legs, or is it a dead-end proposition?
Though awareness of green has blossomed, so too has confusion. Years of greenwashing have made consumers cautious of green claims and green promises. In fact, the FTC recently updated Green Guides – marketing guidelines for products making "green" claims or certifications – for the first time since 1998.
It also indicates the high level of confusion that exists among consumers, let alone the marketers.
In their latest white paper, "Green is Dead or Object Lessons in How to Overuse a Marketing Opportunity," Cleveland marketing firm Point to Point identifies how organizations can evaluate their competitive landscape from a green perspective, and the strategies necessary to help marketers communicate, then evaluate and adjust.
"Green marketing has to evolve. Most consumers possess a deeper awareness of green than they did only a few short years ago," said Mark Goren, president at Point to Point. "Not only do consumers expect green products and services, but they expect companies to do more, like giving consideration to the environmental impact of their production and distribution strategies."
To learn how Point to Point uses their experience in building products and A&D marketing to manage green marketing, download the white paper here or contact Point to Point today at 216-364-0432.
Founded in 1982, Point to Point is an advertising and interactive marketing firm that helps our clients identify, bring into focus and overcome complex marketing challenges. Our expertise in branding, interactive marketing, social media, SEO and media planning allows us to solve each client's unique problems in ways that maximize results. Our goal is always to be a catalyst of change for our clients by moving them from where they are to where they want to be. For additional information, visit http://www.pointtopoint.com or follow us on Twitter @pointtopointinc.
# # #