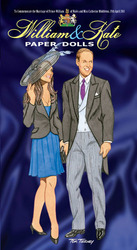 (PRWeb UK) February 22, 2011
Prince William Arthur Philip Louis of Wales became engaged to Catherine Elizabeth "Kate" Middleton in November, and on 29th April they finally say "I do". To celebrate this event, the 'King of Paper Dolls' Tom Tierney has created these gorgeous paper doll versions of the royal couple.
This book features a splendid wardrobe of seven costumes each, including William's military uniform and Kate's sapphire-blue wrap dress that she wore at the announcement of their engagement.
As a special bonus, you'll find William's and Kate's history as a couple at the end of the book, along with interesting information on their degree of kinship to each other and to other famous people. Plus you can download their wedding outfits when they become available by signing up to the Dover email list.
Contents include:
Beach outfits
Kate's magnificent ballroom gowns
William's military dress uniforms
Their costumes from William's Sandhurst passing out parade
William's ceremonial investiture robes
A fabulous and unusual keepsake of William and Kate's royal wedding.
Author information:
One of the leading authorities on fashion history, Tom Tierney, the 'King of Paper Dolls', has created over 150 paper doll books for Dover. Mr Tierney's books are famous for being carefully researched and meticulously rendered. Subjects range from U.S. Presidents and famous movie stars to fashion designers and historical figures and all are an irresistible treat for paper doll lovers of all ages.
To request a review copy or for more information please contact Susie Hallam at F+W Media International
Publication: 25 March 2011
ISBN: 978-0-486-48378-8
Price: £7.99 paperback
Available from Amazon UK
###