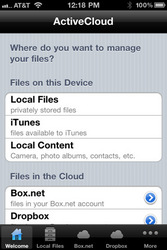 Easily manage all of your files between multiple cloud storage accounts (Box.net and Dropbox), local files, iTunes File Sharing, and iWork.com
Beaumont, TX (PRWEB) February 22, 2011
Pocket Watch, LLC. today is pleased to announce that ActiveCloud has just been released on the Apple AppStore. The company that brought universal printing capabilities to the iPhone and iPad has now brought that same ingenuity to the world of cloud computing. With ActiveCloud iOS can manage files in multiple cloud storage accounts (such as Box.net, DropBox, and iWork.com beta), local file storage, and iTunes file sharing. Also share files with others through easy email attachments.
Remove the Barriers Between the Cloud and an iPad or iPhone:
ActiveCloud gives users the ability to move files between their Cloud storage services (Box.net, DropBox, iWork.com Beta), and their iOS device either in local private storage or iTunes File Sharing.
Familiar Desktop Class File Management Functions:
Use functions on an iPad or iPhone that users are already used to on desktop or laptop platforms to manage files. Functions like Copy/Cut/Paste to move and copy files between Cloud and local storage locations, as well as folders within those locations. Preview documents including Word, Excel, PowerPoint, PDF, photos, and many other common document types.
Quickly and Easily Open, Send, and Print Documents:
Users have all these documents stored in their Cloud storage and on their devices. But they want to do more than just store them. With ActiveCloud users can quickly and easily open their documents in other apps on their iPad or iPhone that are capable of reading them. Or if users need to share a document with a friend or coworker, they can easily send these documents to them as email attachments. Or if a user needs a hardcopy of documents, they can send the file directly to an AirPrint compatible printer.
Features of ActiveCloud:

Manage files in local file storage, iTunes File Share, Box.net, and DropBox
Seamlessly copy and paste files between local and cloud based storage services
Access files in an iWork.com account
Easily send files to others via Email
Print documents using AirPrint
Device Requirements:

Compatible with iPad: iOS 4.0
iPhone/iPod touch: iOS 4.0
3.7 MB
Pricing and Availability:
ActiveCloud Pro 1.0 is $3.99 USD (or equivalent amount in other currencies) and available worldwide exclusively through the App Store in the Productivity category.
###