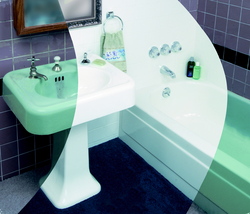 "This is the third year in a row that we have been ranked number one in Franchise Business Review's Home Improvement category," says Chuck Pistor
Colorado Springs, CO (PRWEB) February 22, 2011
Franchise Business Review (FBR 50) announced its rankings for Franchise Satisfaction at the 2011 International Franchise Association conference in Las Vegas. Miracle Method Surface Refinishing was ranked:
1st in Franchisee Satisfaction for Home Services franchises
4th in Franchisee Satisfaction for Mid Size Franchises, 100 – 199 units
11th overall in FBR's Best of the Best Category regardless of size
18th in Top Low Cost Franchises
FBR's Franchise Satisfaction Index score for Miracle Method was 81.97, nearly 20 points higher than the average ranked franchise!
"This is the third year in a row that we have been ranked number one in Franchise Business Review's Home Improvement category," says Chuck Pistor, President of Miracle Method. The company has 125 franchises across the country and is the nation's leader in bathtub, tile, and countertop refinishing.
Unlike any other franchise awards, Franchise Business Review bases their rankings on interviews and current franchisees' opinions of their franchisor. The ranking is based on training and support, financial opportunity, franchise/franchisor relationship, competition and overall satisfaction with the franchisor. The ranking is designed to give people looking for a business opportunity a real-world look into how a franchise really performs for its franchisees.
"There are certainly many good franchise opportunities and to be this highly ranked validates the quality and value of our franchise opportunity to anyone who wanting to take charge of their future by investing in a franchise"
Pistor attributes the positive response by Miracle Method franchisees to an effective national support team. "In a sense we are partners with our franchisees… if they are successful, then the franchise network is successful. We are committed to our franchisees' success," adds Pistor.
For over 32-years Miracle Method franchisees have been providing quality surface refinishing work to homeowners, property managers, hotels, and colleges and universities across the country. The company's proprietary process works equally well on porcelain, tile, cultured marble, fiberglass, and acrylic surfaces. Trained and insured refinishing technicians perform all work by Miracle Method.
Surface refinishing helps homeowners and commercial customers avoid the expense of removal and replacement of bathtubs, tile, vanities and kitchen countertops. "The savings can be as high as 75% over the cost of replacement," added Pistor.
The outlook for Miracle Method franchise growth in 2011 is very bright, according to Pistor. He sees the combination of happy franchisees and the company's best in the industry technology, training, and marketing as keys to attracting new franchise prospects.
Miracle Method has 125 offices across the country and is actively recruiting new franchises. To learn more about Miracle Method and results of their surface refinishing process, log on to http://www.miraclemethod.com, or call 1 800-444-8827 for franchise information.
###