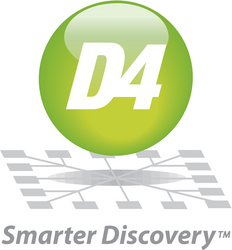 "Our customers appreciate the detailed customization we can provide through Relativity Dynamic Objects" says Maureen Holland, VP of Client Services at D4
Rochester, NY (PRWEB) February 22, 2011
D4, LLC, the national leader in delivering end-to-end eDiscovery services, today announced it has upgraded to kCura's most recent version of Relativity. Among other features, Relativity 6.9 allows custom applications that are built on Relativity Dynamic Objects (RDO's) to be packaged and deployed to different cases, eliminating the need to rebuild them on a case-by-case basis.
"Our customers appreciate the detailed customization we can provide through Relativity Dynamic Objects", says D4 Client Services VP, Maureen Holland. "RDO's can be used to develop mini apps and tracking systems that supplement the main document repository. Things like key case dates, media tracking or doc review Q/A can be captured and made available to the case team. D4 can build anything that is currently tracked in an external database or spreadsheet as a customized RDO and solve specific case requirements for our customers. This brings D4 support to an entirely new level." The new deployment system enables D4 to leverage its library of RDO applications across multiple cases and instances of Relativity. Relativity 6.9 is available from D4 immediately.
About D4, LLC
D4, LLC is a national leader in providing litigation support and e-discovery services to law firms and corporate law departments. D4 covers the spectrum of the Electronic Discovery Reference Model (EDRM), from identification and preservation of data through forensic and targeted onsite data collection; from data analytics and defensible search methodology through hosted review and production. D4 assists attorneys in litigation response planning, strategies for negotiation of scope and meet-and-confer, computer forensics, expert testimony, and approaches to cost reduction in litigation support projects and in corporate law department operations. For its rock-solid and highly-scalable performance in hosted review and its outstanding service to clients, D4 was named by kCura as "Relativity Best in Service".
Founded in 1997 and through its combination and rebranding with Doculegal, D4 has grown to a national presence. With nearly 100 staff, D4 offers full-service locations in Rochester, Buffalo, Tampa, Lincoln, Omaha, New York City, Grand Rapids, and San Jose. D4 fields consultants and project managers from California, Colorado, Rhode Island, Michigan, and Washington DC. State-of-the-art data center operations in Rochester are complemented by electronic discovery and litigation support paper document services throughout the United States. In 2010, D4 was recognized in the "Top Five" of the "Rochester Top 100", honoring the fastest growing companies in Western New York.
About Smarter Discovery™
Smarter Discovery is about leveraging today's best technologies to one's advantage, while bringing clarity to eDiscovery cases and avoiding a deluge of irrelevant data and excessive costs. It is working with a partner who will exceed your expectations on every project and bring true expertise to the table.
###