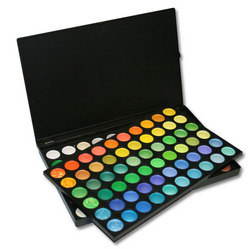 (PRWEB) February 23, 2011
Sedona Lace, a provider of high-end, professional quality eye shadow, blush, concealer, foundation and brushes, has today announced new features and tools available for their online customers. Sedona Lace specializes in providing their customers with the cosmetics and applicators needed to achieve professional results and stunning looks.
One of the best features provided on the Sedona Lace website now is their selection of video reviews and tutorials. These are important tools and provide customers with the best information about products, how to use different cosmetics brushes, and more. In addition, customer reviews are also now available, so that purchasers can feel confident that they are making the best choice for their personal needs.
In addition, Sedona Lace provides new functionality through their storefront. Customers will now be able to estimate shipping costs to their location from their shopping cart, and they will also be able to check their order history through the My Account feature. A user's shopping cart contents will also be viewable for a full 30 days now, as well. Gift receipts can also now be printed very easily. This is an important feature for many customers, and prints a receipt for the items without prices, so that recipients can exchange products if needed, without the price being noted on the receipt, itself.
Finally, Sedona Lace has integrated Twitter into their checkout process. Customers are able to provide a Twitter ID during checkout and, if they choose to provide one, Sedona Lace will "tweet" once the order has shipped. This gives customers the ability to show their brand loyalty through retweets, but also acts as a direct means of seeing that your order has indeed been shipped.
To find out more about the beauty products, cosmetics and cosmetics brushes available through Sedona Lace, visit the company at http://www.SedonaLace.com.
About Sedona Lace: Sedona Lace specializes in providing their customers with the highest quality cosmetics and application brushes to achieve professional results. From metals to pastels and earth tones, customers will find everything they need to create the look they desire with the professional quality selections from Sedona Lace.
###