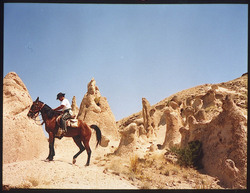 "Receiving the UN Positive Peace Award has inspired us to do more," Souri emphasized, "and to explore how best to expand our humanitarian mission. We are extremely please to take our work to Turkey in 2011."
Great Barrington, MA (PRWEB) February 23, 2011
Relief Riders International is pleased to announce the expansion of its award-winning humanitarian travel program to Turkey. "After six years of productive work in India, it's so very exciting to be able to bring our travelers to Turkey," Alexander Souri, RRI's Executive Director.
"We'll be bringing our unique mix of adventure travel and critical care to the extraordinarily beautiful region of Cappadocia."
The recent winner of the 2010 United Nations NGO Positive Peace Award for Small Business, RRI has organized horseback and camel cart journeys in several provinces of India while delivering aid to rural communities. It's "Give the Gift of Sight" and "Give a Goat" programs have transformed the lives of local villagers. In India, all Relief Rider participants have helped facilitate free medical and dental camps, distribute goats to families in need, and school supplies to local children. During its ten rides, RRI has provided health care to 16,000 villagers, including 10,000 children.
As Souri noted: "Our first Relief Riders to Turkey will work with our medical and dental and educational advisors to develop and implement programs specifically adapted to the needs of the communities to visit. We're already thinking about creating some new programs, and we'll be working closely with local officials and citizens in Cappadocia to build some community gardens and children's playgrounds in towns that need them.
Located in the middle of Turkey, Cappadocia is known for its fine horses and its natural wonders. The high plateau of Anatolia, with its colorful river valleys, dramatic ravines, and volcanic peaks will serve as the backdrop for RRI's Turkish journey.Riders will gather in Nevsehir, and then travel to Avanos, the handicraft center of Cappadocia. The first day's ride takes place in the hills along the Kizilirmak River (the Red River). Other rides will take us to Sarihan Caravanserai, a beautiful 13th century traveler's lodge on the Silk Road, where we will have tea with the Sufis. From Mount Ziyaret we will have views of Erciyes, the 13,000 ft high volcano and the vineyards below. We'll travel to the beautiful ancient village of Bayramhaci which overlooks the Akdag Valley and is famous for its hot springs.
Along the way, RRI participants will assist our professionals with dental camps in the villages of Sarihidir, Bayramhaci, Karain and Sofular. While general medical care is far more advanced in Turkey than rural India, the lack of adequate dental care is clearly apparent. We will be providing both dental screenings and treatments to supplement the care villagers are currently receiving.
In addition to riding through some stunning terrain, we've incorporated a variety of activities that highlight some of what is unique to Turkey. Cappadocia is a UNESCO World Heritage Site and riders will have the opportunity to take a hot air balloon to best appreciate its panoramic views. We'll camp overnight in the caves along the Silk Road, and visit the Anatolian village of Sofular, where people still follow tradition and occupy cave houses. And we'll have plenty of chances to see the region's incredibly interesting rock formations known as "fairy chimneys."
"Receiving the UN Positive Peace Award has inspired us to do more," Souri emphasized, "and to explore how best to expand our humanitarian mission. We are extremely please to take our work to Turkey in 2011."
MEDIA CONTACT:
Alexander Souri
T: 413.329.5876
###