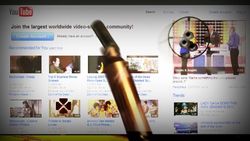 Play while not really playing. META Assassin as a concept will turn the idea of online and social gaming on it's head.
Sunnyvale, CA (PRWEB) February 24, 2011
Launched on the 18th of Feb 2011, META Assassins is a 4-month long online game tournament promising real and tangible rewards for winning players. Played right from the browser, the META plugin enables players to draw 'kill missions' of real players, whom they engage in a shootout upon landing on the same site, at the same time. In an instant, both player's cursors turn into a crosshair, in a bid to shoot a moving target - each other. In addition, players need to keep their 'health' afloat by staying online on their 'health sites', chosen by players themselves.
Unlike most social games, META Assassins enable players to earn game cash through online and offline 'jobs'. Providing a holistic gaming experience, players are required to decipher codes, navigate street maps, and 'think like a real assassin', in order to advance with better weapons and more sophisticated tools.
"Play while not really playing" is a motto of the game where players are encouraged to go about their daily surfing lives while being ready for an assassin who might be lurking in the corner.
The people behind META Assassins is Ape.IO, a startup founded in late 2010 that was spun off from Ape Communication Pte Ltd and is currently based in Singapore. This creative outfit believes in making the web a more vibrant and interesting virtual space for all Internet users and continues to push the boundaries by creating fresh and new online experiences to share and enjoy.
# # #