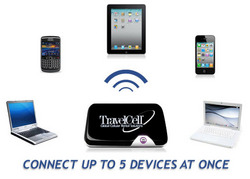 "I traveled on business to Paris and was able to connect with my iPad and iPhone with unlimited data, and make calls for less with travelcell.com. Last time I went, my US carrier charged me thousands of dollars for data! Thanks you TravelCell!"
New York, NY (PRWEB) February 23, 2011
Verizon has recently launched its version of the Apple iPhone and millions of international travelers have found they have no solution to keep in touch with their office or family while abroad. Verizon Wireless utilizes CDMA technology which does not conform to the GSM standard used worldwide. Subscribers will quickly find themselves off line, and unable to connect to voice or data networks. A new solution has emerged to solve the international roaming problem. TravelCell.com has just released its international mobile WiFi service with unlimited usage.
TravelCell the leading global cellular and data rental provider offers high speed wireless data in the form of a tiny MiFi, which allows the user to create their own hot spot practically anywhere worldwide, at a fraction of the cost of hotel or traditional carriers. The TravelCell.com MiFi allows up to 5 devices to be used simultaneously, including iPhone, tablets, android, iPod, iPad, Blackberry, and all laptops.
Worldwide travelers have been renting TravelCell phones for over a decade, so they can make calls at low rates, with incoming free in many popular destinations. Many who rent the MiFi device are renting TravelCell phones as well. A new promotional offer waives the phone rental fee to all who rent the MiFi device, a savings of almost $30 per week.
AT&T users although utilizing GSM technology, are also renting the TravelCell MiFi and TravelCell phones, to avoid the exorbitant rates for data roaming services and international calls. Hotel Wi-Fi, as high as $20 per day, operates at slower speeds, and ties the user down to the location.
The TravelCell solution, proving to be extremely popular with the business and frequent travelers, offers unlimited data at 3G speeds or better and is portable so it can be used anywhere. It is convenient and very cost effective, with unlimited data in the UK, China, Hong Kong, Japan, Germany, France, Israel and more countries added regularly.
George Hernandez, a pharmaceutical executive from Dallas, recently returned from a business conference in Paris, stated "using a Travelcell MiFi saved me huge data charges from my U.S. carrier, and enabled me to stay connected with my iPad throughout the trip".
For those traveling domestically, TravelCell offers unlimited USA data at discounted rates. Ideal for trade shows, conferences and vacationers alike.
Stay connected with data worldwide without high costs, from TravelCell.com
Visit travelcell.com or call 877-CELL PHONE (877-235-5746)
About TravelCell:
TravelCell the leading global cellular and data rental provider for over a decade has been providing leisure and business travelers with the best in voice and data communications at the lowest rates.
Press Contact:
Josh Mehlman, President
877-235-5746 ext. 211
josh(at)travelcell(dot)com
# # #