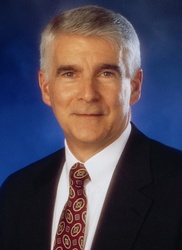 Operational and innovative excellence can only come with gutsy leadership.
San Francisco, CA (PRWEB) February 23, 2011
What's Holding You Back? That's the question Bob Herbold, Microsoft's former chief operating officer, wants answered. His latest focuses on ten principles anyone who wears a leadership badge should be putting into practice. From shaking up the organization to cleaning up sloppiness to staffing effectively, Herbold calls it "gutsy" leadership, and he tackles each of these with straightforward, no-nonsense writing.
"Effective leaders must be bold enough and brave enough to make tough choices, said Herbold. "Management that doesn't confront problems and make the necessary tough decision to change typically ends up with a culture focused on pride in the past and the protection of old procedures."
Each chapter in What's Holding You Back? 10 Bold Steps That Define Gusty Leaders (February 21, 2011,Wiley/Jossey-Bass) features Herbold's own experiences at top management positions in corporate America, first at Proctor & Gamble and then at Microsoft. He also includes illustrative, real-world examples from inside leading Fortune 500 companies- Microsoft, Porsche, IBM, Merck, Canon, Sony, Whirlpool, IDEO, Tesco, P&G, Target and 3M. Step-by-step Herbold reveals how managers can cultivate and deliver accountable and decisive leadership, even while grappling with the toughest dilemmas.
"Operational and innovative excellence can only come with gutsy leadership," said Herbold. "It's all about increasing the satisfaction and loyalty of your clientele."
During Herbold's seven years as executive vice president and chief operating officer at Microsoft, the corporation saw a four-fold increase in revenue and a seven-fold increase in profits. He spent twenty-six years at Proctor & Gamble where he held several executive positions. His two other books on leadership, Fiefdom Syndrome (Doubleday Business, 2004) and Seduced by Success (McGraw-Hill, 2007) have been endorsed by Bill Gates, Michael Dell and Pepsi's CEO, Indra Nooyi.
###