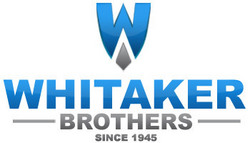 After 65 years, Whitaker Brothers raises the bar once again by using a customer centric approach to their website redesign.
(PRWEB) February 24, 2011
Whitaker Brothers® announces the launch of their new website, http://www.whitakerbrothers.com , completely redesigned to offer optimum user experience, increased access to information, and an even wider range of products and supplies for purchase. As specialists in data destruction for over 65 years Whitaker Brothers works with the world's leading manufacturers in designing solutions for the ever-changing demands of data security. The website offers a pdf version of their current GSA catalog for download along with GSA pricing on over 160 products on schedule including high security, level 6 shredders evaluated and listed by the NSA. Other data destruction equipment options include deployment shredders, disintegrators, hard drive degaussers, CD/DVD shredders and hard drive punches. Product demonstration videos on many of these models are available for viewing and the enhanced navigation gives end-users an easy way to search the site for a specific model or research numerous solutions to their data destruction needs.
In addition to their decades of experience in the security industry, Whitaker Brothers excels in their ability to provide quality paper handling products that save time and money no matter how large or small the application. The new website offers an array of paper folders, Triumph paper cutters, folder/inserters, time stamps, bindery equipment, and other systems that are designed to provide durability, performance, and value. You'll find quality products by industry giants like Formax, MBM, Widmer, Martin Yale, Interlake, Syntron and others, along with downloadable operators manuals and product demonstration videos for many products. You can search the site by manufacturer, brand name or cost to find the model that suits your needs and their product specialists are available by phone (800-243-9226) or chat (whitakerbrothers.com) to answer any of your questions.
Whitaker Brothers supports the over 500 products you'll find on their site with nationwide service provided by factory-trained technicians. On their new website you'll find a service center link that will allow you to place a service call, request a part or supply item for an existing machine, or request a quote on a preventive maintenance agreement that will extend the life of any product you purchase from their site.
Whitaker Brothers hopes you'll enjoy visiting their new website and utilizing the additional benefits and features that they've provided. Their mission is to assist their customers around the world by providing quality products for the best value; take a moment to look at their site and see how they can help you.
###