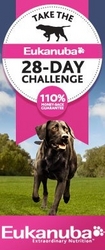 We all have such a passion for dogs and are committed to providing extraordinary nutrition so they look and perform at the top of their game
Mason, Ohio (PRWEB) February 22, 2011
To help dogs and their owners experience the difference that extraordinary nutrition can make, Eukanuba launched its 28-Day Challenge, which asks consumers to feed their dogs any Eukanuba formula for 28 days to see first-hand how a high-quality diet can promote overall well-being. Owners inspired by their dog's transformation, can also enter the pet food maker's Facebook contest where one dog will be crowned the "Challenge Champion" and appear in Dog Fancy magazine and select Eukanuba advertising.
"We all have such a passion for dogs and are committed to providing extraordinary nutrition so they look and perform at the top of their game," said Manuel Miyar, associate marketing director, Eukanuba. "As leaders in nutritional science, we understand what dogs need to be at their best and are offering an easy way for pet owners to find out for themselves what a difference a premium Eukanuba diet can make."
28-Day Challenge – How It Works
Dog owners can enter the Challenge by signing up at Facebook.com/Eukanuba today through June 2011. During the trial period, participants may see strong defenses and a reduction in tartar build-up, and if they're not completely satisfied, Eukanuba will refund 110 percent of the food purchase*. Every participant will receive customized Facebook feeds with nutrition, training and health tips throughout the Challenge program.
Challenge Champion Contest – How to Enter
Consumers can enter the contest on the Eukanuba Facebook page Feb. 15 – April 30, 2011 by submitting a current photo of their canine and explaining in 100 words or less how their dog went from good to extraordinary while eating Eukanuba. In May, Eukanuba and Dog Fancy will select five dogs as finalists and each will receive a free year's supply of Eukanuba dog food. The grand prize "champion" will be given the pink carpet treatment and win a photo shoot, an appearance feature in the September issue of Dog Fancy magazine and be spotlighted in a Eukanuba print advertisement. The finalists and winning dog will be announced on the Eukanuba Facebook page early this summer. For more information, including contest rules and regulations, entry form and more, please visit Facebook.com/Eukanuba.
Finding the Right Formula
For pet owners looking for the right food for their dog, Eukanuba has an extensive range of specially crafted formulas to meet their needs based on age, breed and performance area, including Breed Specific, Custom Care, Naturally Wild, Puppy, Adult and Senior formulas, Premium Performance, Natural and Pure. All formulas include the Eukanuba Vital Health System™ which consists of clinically proven ingredients in six key performance areas that work together to keep dogs at their best. For tips on transitioning from one food to another, visit Facebook.com/Eukanuba and check out the 28-Day Challenge tab.
About Eukanuba
Eukanuba offers the most complete food lineup, delivering nutrition that is customized by breed and breed size as well as health and performance requirements. Eukanuba is a division of Procter & Gamble (NYSE:PG). Visit us on the Web at http://www.eukanuba.com or at Facebook.com/Eukanuba.
About P&G Pet Care
For more than 60 years, P&G Pet Care (NYSE:PG), the maker of Iams and Eukanuba, has enhanced the well-being of dogs and cats by providing world-class quality foods and pet care products. To learn more about Eukanuba® and Iams® Dog & Cat Foods or general pet care and nutrition information, call the Iams Consumer Care Center at (800) 446-3075. You can also visit us on the Web at http://www.iams.com or http://www.eukanuba.com.
About Procter & Gamble
Four billion times a day, P&G brands touch the lives of people around the world. The company has one of the strongest portfolios of trusted, quality, leadership brands, including Pampers®, Tide®, Ariel®, Always®, Whisper®, Pantene®, Mach3®, Bounty®, Dawn®, Gain®, Pringles®, Charmin®, Downy®, Lenor®, Iams®, Crest®, Oral-B®, Duracell®, Olay®, Head & Shoulders®, Wella®, Gillette®, Braun® and Fusion®. The P&G community includes approximately 127,000 employees working in about 80 countries worldwide. Please visit http://www.pg.com for the latest news and in-depth information about P&G and its brands.
###