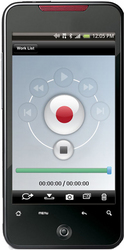 Chicago, IL (PRWeb UK) February 22, 2011
BigHand, the leading workflow digital dictation vendor in the global legal sector, has today announced the release of the 4th Edition of its award-winning software. Representing a major new version, BigHand once again pushes the boundaries of voice productivity technology, particularly on the Smartphone platforms.
Steve Butterworth, President, BigHand Inc. comments:
"The release of BigHand 4 is a significant landmark in the development of voice productivity technology. Last year's acquisition of nFlow, a major European competitor, presented us with an opportunity to combine the best of both applications with a suite of innovative new features and tools such as Mobile Email Integration, the world first BigHand for Android™ client and advanced multistep workflow functionality. BigHand 4 demonstrates our continued commitment to client delivery and development of highly accessible voice productivity software."
BigHand 4 enables firms to:

Save time on the move via enhanced Mobile Email Integration
Use your smartphone to attach an email to a voice file, or insert an existing attachment, and forward to admin support for faster document turnaround
Increase smartphone productivity with BigHand for Android™
In a world first, BigHand now supports the Android™ operating system for dictation on a variety of devices including the HTC Desire, the Motorola Milestone™ 2 and the Samsung Galaxy S
Control the entire document production process via Advanced Multistep Workflow
Easily create powerful and flexible multistep workflows to move dictations and associated documents through a series of desired actions and to multiple destinations, all within the same product without the need to buy additional business process management software
Streamline deposition reports via Practice Builder
Pre-build a list of clients and matters with pre-profiled voice files ready for authors to record against during a deposition
Reduce administrator input via Send Anywhere
Authors can now dynamically choose the recipient of their voice file without the need for admin to create a new workflow
Improve security with Confidential Dictations
Authors can mark a dictation as confidential by simply checking a tick box, without the need to create confidential workflows, and accessible only to the author and specified recipient
Increase draft quality via Bookmarking
Users can now bookmark points for reference within a voice file and add additional notes, improving the communication of critical information
 
Maximize voice-to-text accuracy via unique Speech Recognition Pre-Learning Utility
Quickly and simply pre-train speech profiles using an author's existing dictations to ensure highly accurate results from the very first time of use
Improve information management via new Autonomy iManage Integration
Off-the-shelf integration for authors to profile dictations either from within iManage or BigHand, without switching between applications
Asif Ali, Products Director, BigHand, comments:
"Version 4 represents a significant and exciting advancement in the power of our technology. The ongoing development of our Smartphone offering takes mobile working to a whole new level and will further help our clients address the constant demand for lawyers to be more productive out of the office. In terms of improving back office efficiency, BigHand's advanced workflow functionality comprises a set of flexible and powerful tools within the core product that will allow administrators to more easily define, control and report on their internal document production processes. And, while BigHand 4 is incredibly feature-rich, we have maintained our commitment to producing highly usable and reliable software: BigHand 4 is unmatched."
A video demo is available on the BigHand YouTube Channel: http://www.youtube.com/bighandsoftware, plus a BigHand 4 Pre-Sales Technical Datasheet can be requested by emailing inquiry(at)bighand(dot)com.
BigHand will also be hosting a webinar on Wednesday, April 20th. If you are interested in attending, please email Allison.stegich(at)bighand(dot)com to receive an invitation.
About BigHand
The BigHand Group supports over 130,000 professionals globally, across 1,300 organizations, and is based out of Chicago, London, Sydney and Toronto. BigHand is a Microsoft Gold Partner, Elite BlackBerry ISV Partner, and was voted 'Dictation System of the Year' at the 7th Annual Law Technology News (LTN) Awards 2009. Further information is available at http://www.bighand.com.
Android is a trademark of Google Inc. Use of this trademark is subject to Google Permissions.
Contact:
Allison Stegich, Marketing Manager, BigHand, Inc., Allison.Stegich(at)bighand(dot)com
###