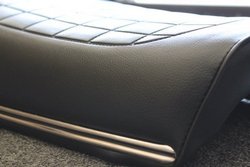 I love everything about this business, especially keeping my customers happy with great products at great prices
San Marco, CA (PRWEB) February 23, 2011
Route 66 Classic Motorcycles, once the world's largest private collector of vintage Japanese motorcycles, is now Z1 Parts Inc. As a worldwide vintage motorcycle parts supplier they have recently expanded their offerings with a new website http://www.z1parts.net and a new larger facility at 1621 S. Rancho Santa Fe Road Suite C in San Marcos, CA .
Z1 Parts Inc. specializes in vintage Japanese Motorcycle parts for models like the Kawasaki Z1 900, KZ900, KZ1000, H1 and H2 Triples, Honda CB750, Suzuki GT750 and more which can save customers up to 50% off compared to other dealers, as well as access to hard-to-find vintage Japanese parts and accessories. Z1Parts has a long history as a leader in the Japanese motorcycling world. In fact, Kawasaki launched their new Vulcan model in 1996 at the previous Route 66 Classic Motorcycles location in Oceanside, CA. They currently offer about 300 Vintage Japanese Motorcycle Parts on the new Z1Parts.net website.
Z1 Parts carries a wide variety of parts for air, fuel, body, frame, decals, controls, electrical, gaskets, motor parts, rubber parts, seat covers and complete seats! They have all the necessities for restoring your favorite vintage bikes.
Exciting Offerings Include:

Z1 Complete Seat- Best reproduction Z1 900 complete seat on the market
H2 Complete Seat- Best reproduction H2 750 Triple complete seat on the market
H1 500 & H2 750 Triples Complete Wiring Harness- Best reproduction wiring harness on the market
Z1Parts offers the highest quality aftermarket motorcycle restoration parts at extremely competitive prices. They ship worldwide and offer a 100% unconditional satisfaction guarantee with their world famous 'no questions asked' return policy. They welcome all dealers, wholesalers and distributors to preview their expanded selection online or in-store. Z1Parts has been family owned and operated for over 20 years, "I love everything about this business, especially keeping my customers happy with great products at great prices," said owner Tanner Talat.
About Z1Parts.net
Since 1983, Z1Parts.net, formerly Route 66 Classic Motorcycles, has been buying and selling motorcycles and parts for biker enthusiasts worldwide. By 1995 they had the largest private collection of Japanese motorcycles in the world. Please visit YouTube to view video of the showroom.
Media Contact:
Z1Parts.net
1621 S. Rancho Santa Fe Rd. Suite C
San Marcos, CA 92078
760-591-4118
Kawaskiparts(at)gmail(dot)com
http://www.z1parts.net
###