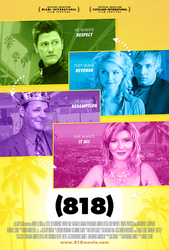 Los Angeles, CA (PRWEB) February 23, 2011
"(818)", a feature film about family, fame and celebrity justice will have its World Premiere at the 28th Annual Miami International Film Festival (MIFF), which runs March 4 through March 13 on Miami's famed South Beach. Directed by Robert Lee King, "(818)" marks King's return to the camera following his feature cult favorite "Psycho Beach Party".
"(818)", presented as part of MIFF's World Competition, is a dark comedy about a has-been television star whose career gets reignited when she's accused of killing her husband. "(818)" features an ensemble cast – Beth Broderick ("Bonfire of the Vanities", "Lost", "Sabrina the Teenage Witch"), Whitney Able ("Monsters", "Unearthed"), Ryan Hansen ("Friday the 13th", NBC's upcoming "Friends With Benefits"), Vincent Ventresca ("Romy and Michele's High School Reunion", "The Invisible Man"), Keri Lynn Pratt ("I Hope They Serve Beer in Hell", "Smallville"), Andrew Levitas ("Homework", "Psycho Beach Party"), Nathan Lee Graham ("Zoolander", "Sweet Home Alabama") and Chris Mulkey ("Cloverfield", "Boardwalk Empire", "First Blood") with a cameo by Corbin Bernsen ("Kiss Kiss Bang Bang", "Psych").
Produced by Lisa Schahet from a script written by David Michael Barrett, "(818)" shows us the glory days of aging former TV queen Alyssa Rampart-Pillage are well behind her; these days her on-camera presence has been reduced to appearances in the commercials for husband Bernie's San Fernando Valley (area code - 818) appliance empire. When their environmental radicalist daughter Topanga dies tragically in an accidental golf ball incident, Bernie goes off the spiritual deep end and tries to give away his fortune, but Alyssa will not have it. After all, she is a Celebrity!
Screening dates:
Sunday, March 6 – Regal South Beach Cinema 10 at 9:15 pm
Monday, March 7 – Regal South Beach Cinema 9 at 10 pm
In attendance at the film's screenings will be Robert King, Beth Broderick, Lisa Schahet, David Barrett and co-producer Beau Genot.
Robert Lee King made his directorial debut with the award-winning short film, "The Disco Years". Channel Four picked it up for its "Shooting Stars" series, and Strand Releasing included it in their first installment of theatrical short films. His first feature, "Psycho Beach Party", starred Emmy® Award nominee and SAG Award® winner Lauren Ambrose ("Six Feet Under"), multiple Academy Award™ nominee Amy Adams ("The Fighter", "Enchanted", "Doubt"), and premiered at the 2000 Sundance Film Festival. The film was released theatrically by Strand and was an overnight cult sensation. It can still be seen on cable television as well as the Staff Favorites shelf of DVD stores around the country. King co-wrote "Slap Her, She's French" for ABC Family Network, starring Piper Perabo and Michael McKean – the film aired as "She Gets What She Wants". King is a member of the Writers Guild of America.
Color film stills are available upon request. To schedule media interviews with Robert King or the cast of "(818)", please contact Lisa Schahet: hmonursepictures(at)gmail.com or Bryan deCastro, BDC Communications: bryan(at)bdccommunications(dot)com (310) 295-9560.
###